ICC CRICKET WORLD CUP 2015
Hoping to silence the noisy neighbours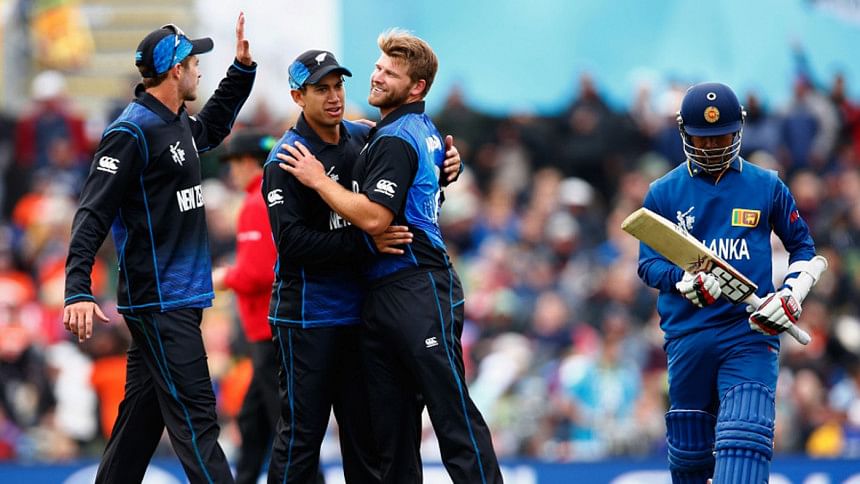 Melbourne, 1981. Trevor Chappell accedes to the instruction of his brother, Greg, to bowl the final ball of a one-day international against New Zealand under-arm with six needed to win. And one of the biggest controversies in the sport is born. It brings condemnation from many, including the third brother, Ian Chappell, and the Prime Ministers of both Australia and New Zealand.
Robert Muldoon, the New Zealand PM, said it was "the most disgusting incident I can recall in the history of cricket … it was an act of true cowardice and I consider it appropriate that the Australian team were wearing yellow".
"In all honesty, I think it's something that New Zealanders have never really forgotten," Chris Harris, the former New Zealand allrounder, told ESPNcricinfo. "It's not nearly as important nowadays, but it's still talked about. If a New Zealander is getting a hard time from an Australian that situation is very quickly brought up. We play on that a little bit, to say we'd never stoop to those levels."
So it is going too far to say relations between the countries have never been the same - Brian McKechnie, the batsman who blocked the infamous delivery and threw his bat away in anger, said the New Zealand players were joking about it a few hours later - but Trans-Tasman cricket contests do not lack for an edge.That won't be missing when the two sides meet at Eden Park on Saturday, a match surrounded with rare excitement for a country dominated by the oval ball, although even this will pale in comparison should the sides meet again in a semi or the final.
New Zealand have home advantage, are three wins from three in the tournament, on the back of thrashing England in Wellington, and have formulated what is widely accepted to be their finest one-day team. In coloured clothes, there is strong evidence to suggest the gap is as narrow as ever; two in-form batting and bowling units, alongside dynamic fielding. This match is a litmus test.
For teams so geographically close together, it is surprising that they have only played two ODIs since 2010 - group matches at the 2011 World Cup, won comfortably by Australia, and 2013 Champions Trophy, which was abandoned. The bilateral Chappell-Hadlee series has been shelved, although the prize was played for at the 2011 World Cup and will be up for grabs this time. There are also plans afoot to revive the frequency of matches between the two.
The drying up of fixtures has helped fuel the anticipation of this match. The rivalry does not generate the hype - certainly outside of the two countries involved - of the Ashes or India-Pakistan but the fervour that has built leading into the World Cup is peaking with the arrival of the Australians. And 1981 is not the only time tempers have frayed.
There are a few contemporary examples of when the environment has become heated. In 2005, Brett Lee sent down a beamer to Brendon McCullum at Eden Park; an apology was made, but not readily accepted. The late Peter Roebuck led his piece in the Sydney Morning Herald with: "Brett Lee must be dropped from the Australia side for the rest of this tour of New Zealand."
John Bracewell, the New Zealand coach, fumed: "It's very hard to pick Brett Lee's bouncer. It's even harder to pick his beamer. It is the fourth time this season that he's beamed one of our guys, and he's been apologetic every time he's done it. That's a lot of apologies."
In 2007, Bracewell was at the centre of controversy over comments regarding the resting of Adam Gilchrist from an ODI, which had followed his refusal to offer support for the legality of Shaun Tait's action. In 2009, there was much ill-feeling after an incident at the WACA when Brad Haddin's gloves dislodged the bails when Neil Broom was batting and the batsman was still ruled bowled, which led to accusations of cheating. A year later, at Napier, Scott Styris and Mitchell Johnson clashed, shoulder-to-shoulder, when Styris took the left-arm quick for consecutive boundaries on the way to steering New Zealand to a narrow win.
Harris says that the mindset around playing Australia is ingrained from a young age. "If you go back to your backyard days, which most of us still play, generally if there are two teams it's Australia verses New Zealand so that psyche is always there, that it's the big one - not that we take any other side lightly, but it matters a little bit more."
It is a popular refrain that New Zealand find a new level of performance when playing the 'neighbours' or 'big brother'. The statistics do not quite paint the same picture: 34 wins from 125 ODIs against Australia, their lowest win/loss ratio against any nation.
But that doesn't mean it has not run the other way, too. Much has been said and written about the 1992 match at Eden Park, which sparked New Zealand's most famous run of results, when a disbelieving crowd invaded the ground at the winning moment. Then in 1999 they overcame a rusty Australia side in Cardiff to win by five wickets. Those two matches, however, remain New Zealand's only wins against Australia in global tournaments. They have never had a better chance to add a third.
While there is no love lost on the field, Harris, who played four World Cup matches against Australia, taking the final wicket in 1992 and scoring a career-best 130 at Chennai in 1996, suggests the intensity when the sides meet is stoked by grudging respect.
"For a very long time, from a New Zealand point of view, you feel Australia have set the benchmark and for us it's a great challenge in a lot of the sports we play against them, as you are playing against the best.
"We love to beat them, but New Zealanders generally respect Australian ability mainly because, in most sports, Australia are top of the world or close to it. There is a little bit of admiration but we always, as a much smaller country, we always love to challenge ourselves against the much bigger neighbour."
Those neighbours can be rowdy at times. Australia view on-field verbals as part of their make-up, often led by the boisterous David Warner who has already prepared himself for a raucous greeting from the Eden Park crowd. It is likely he will hear more from the fans than he will from the New Zealand players, although it will be interesting to watch how they respond, if pushed, during the heat of the moment. Opposition facing New Zealand of late have not had much ground for sledging, but Australia will be keen to put them in their place.
New Zealand's persona in the middle is created by their fielding rather than their lip. McCullum's dives can speak a thousand words. Before the tournament, when the crackdown on sledging was one of the regular topics, ICC chief executive David Richardson picked them out as a team that "acquit themselves very respectfully on the field".
Three times - 2004, 2009 and 2010 - they have won the ICC Spirit of Cricket award, while Daniel Vettori claimed the title himself in 2012. The award has sometimes been construed as a sop, the nice-guys-who-don't-win-much accolade, but their increased on-field success has not yet brought any deterioration in behaviour.
"We deal with plenty of sides that provide that and we just tend to go about our work. We don't get too caught up in that sort of stuff," Mike Hesson, the New Zealand coach, said. "We're pretty respectful of our opposition and we're competitive but we pretty much focus on our own job. We don't have a rule but, as I said, we're just respectful of our opposition. We basically focus on what we're trying to do rather than anything else."
And, if things do become tetchy in the middle, ask a New Zealander who started it and there will only be one answer. Maybe even with a mention of 1981.