ICC CRICKET WORLD CUP 2015
Not such an English game anymore
Increasing numbers of top-level cricketers are not comfortable expressing themselves in cricket's original tongue. It's an issue a game with global interests needs to take seriously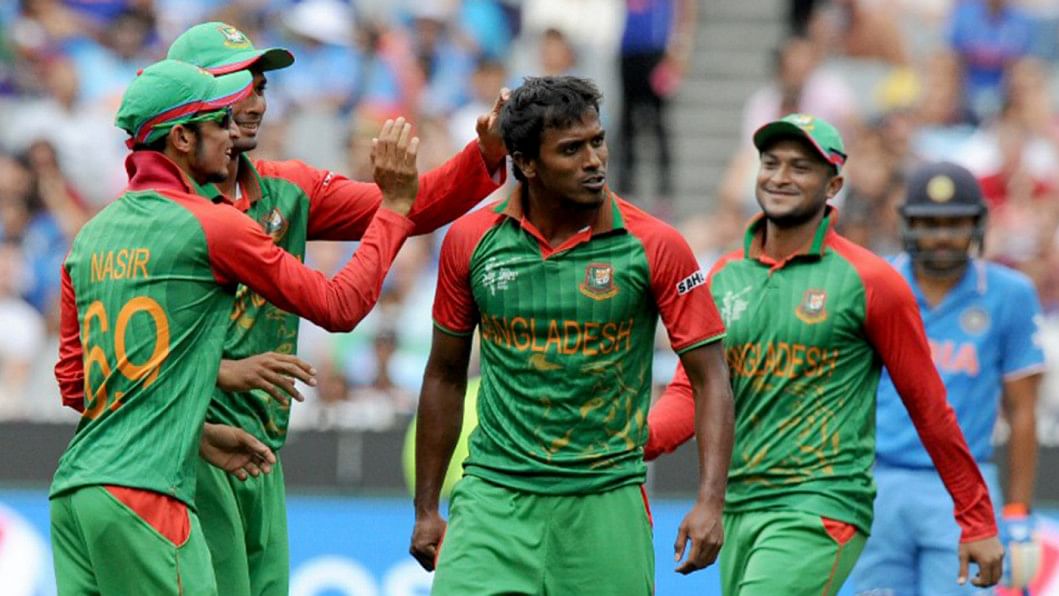 Mohit Sharma walked into the press tent in Hamilton, New Zealand, sat down looked around and said, "Hindi main theek hai, na?" (It's fine in Hindi, no?) The press gathered were largely Indian and agreed instantly. Mohit, fresh-faced, personable, looked across at the team's media manager, Dr RN Baba, and with a wicked smile on his face said, "Sir, Hindi main." (Sir, it's in Hindi.) Dr Baba's total lack of Hindi, the link language in the Indian dressing room, is a well-known fact. But it didn't matter, Dr Baba was not there to offer interpretation services, merely to direct proceedings in his unique sign-language-countdown sequence.
To hear both Mohit and, days later, Mohammed Shami reply to questions in their native language was to hear their personalities speak with openness and humour. About how the wicket-taking balls on highlights could, on other days, have been hit for six; the banding together of bowlers; the narrow percentages within the game; and the pressure from home expectation. Mohit and Shami's native language had freed them from the straitjacket of clichés about "good areas" the importance of "process" and "expressing" oneself. Having a cricketer speak in his own language allows him to share the game as he sees it with a wider audience.
At a fund-raising dinner for the LBW Trust in Sydney on Saturday night, writer and historian Mike Coward, speaking as master of ceremonies, made an observation that could only come from a global citizen of Planet Cricket. He said, "We tend to forget that cricket is a sport of the developing world."
The "we" Coward was referring to was the first world, where cricket - and the English language - has deep roots. For over a century, English carried the game's history, folklore and myths. Conversations around cricket's stories and mythology were, until a time, mostly conducted in English.
Now, however, in parts of the world where the game is a surging life force, players come to cricket before they come to English. These are the places where cricket has its biggest numbers and most fervent fan following. It happens to be a non-Anglophone world and it is growing. Think of Afghanistan, whom we have seen at the World Cup. Or Nepal, who turned up at the ICC World T20 last year. Or Papua New Guinea, the East Asia Pacific region's strongest team, who have received ODI status, finishing fourth in a World Cup qualifier tournament last year. Each country's cricket brings with it languages that cricket had never inhabited before - Pashto/Dari, Nepali, and a creole called Tok Pisin.
My colleague Jarrod Kimber helpfully passed on his notes from a Shapoor Zadran press conference at this World Cup: "Too much swing. Bouncer is good. Good for cuts and hooks. Dennis Lillee, Brett Lee, Curtly Ambrose, Courtney Walsh, Shoaib Akhtar. Waqar, Shoaib, Wasim, too much bounce, too much speed. I copied Shoaib Akhtar, even when I was a small boy I was running 38 steps. Too much hair. Height. Hair. Style. Speed, run-up, too much six."
Marvellous itself in its eccentricity, but so much more could have emerged if there was someone around who could instead have translated - if not from Pashto or Dari, at least from Urdu.
This lives alongside the unshakeable truism about how cricket can be a common language amongst people. It is an idea that works well between players and coaches in the dressing-room environment. New Zealander John Wright spent nearly five vibrant years as coach of India, speaking only three words of Hindi - "chalo", (let's go) "jaldi" (quick) and "AC bandh" (switch off the air conditioning). Dav Whatmore has coached Sri Lanka, Bangladesh, and now works with Zimbabwe. Rahul Dravid's story of a century partnership between Under-19 tailenders neither of whom understand a word the other spoke remains priceless.
Cricket is the dressing room's common language, but outside it, at a multi-nation event with global attention, it is a player's own language that represents power and freedom. For a non-English speaker, having to express themselves in what is a largely alien language, on demand for television and the world's press, makes any Q&A session a dreadful chore. What is more, it reveals little, except the modern cricketer's mastery of anodyne homilies.
Chatting about the boundaries of language with my multi-lingual colleagues at ESPNcricinfo, (rough count: among ourselves we speak at least 15 languages), the story repeated itself across nations. At larger multi-nation events, the Sri Lankans are known to offer only those players who are fluent in English at press conferences. It tends to make younger Sinhala-speakers wary. Lahiru Thirimanne, for example, is said to be excellent one on one in his native tongue but freezes up with a mike in front of him.
When the Bangladeshis turned up at their pre-quarter-final press commitments, they answered questions in English and Bangla. As soon as Shakib Al Hasan and Mashrafe Mortaza, comfortable in English, switched to Bangla, the tone of their conversation became more personal, more detailed and relaxed. The Bangladeshi players not comfortable in English, this site's Bangladesh correspondent Mohammad Isam says, tended to speak in a lower tone and mumble a string of clichés. Some do try to take English classes as they find their way up the ladder.
With the Indians, Ajinkya Rahane who is tri-lingual, like many Indians, can handle Hindi and English, but is far more at ease in his native Marathi. The generation of players before him asked their friends among the reporters for help in conducting mock English Q&A sessions to get their vocabulary and fluency up to scratch.
Last season the Punjab Ranji Trophy team instituted an "English-speaking Sunday", where the entire team would only communicate in English - even for a bowler to curse a fielder for dropping a catch. It was meant as a challenge to get better at a language that they would have to use to deal with the wider world, and it ended with the team spending many Sundays doubling over in laughter.
The Indian team has always had several English speakers and others who only spoke their native languages - ones other than Hindi. On a 1990 tour of New Zealand, the opener WV Raman acted as interpreter for his team-mate Narendra Hirwani and translated a New Zealand broadcaster's questions from English to Hindi. This when Raman's native tongue was Tamil and his Hindi was rudimentary.
In other nation v nation sporting events, like the Olympics and the FIFA World Cup, where English is not the only language required to communicate, there are interpretation services on offer. So at the football World Cup, translations are offered at press conferences in as many as three languages if necessary: the two competing nations' languages as well as that of the host nation. At the Olympic Games, the IOC's two main languages, French and English, as well as that of the host nation, are heard in real-time through headphones. Both these events are held once every four years, over and done with in a fortnight (the Olympics) and six weeks (the World Cup); cricket's bilateral and multi-lingual calendar runs on a non-stop 12-month conveyor belt.
In cricket, trying to fit in a translation service that is suitable to all members - from Afghanistan to Zimbabwe and including the nine other Full Member nations - would make for at least a quibble a day
When asked about the sudden profusion of languages in the global game and the need for interpreters at ICC events, media spokesman Sami Ul Hasan said, "The ICC is always open to ideas, options and innovations, it is what we have always tried to do. But to every idea, every facility that is created, there is a cost involved and everything needs to be carefully weighted."
In cricket, where the primary identity of the sport is based on nation v nation competition, the proliferation of languages spoken turns into a political and administrative minefield. Trying to fit in a translation service that is suitable to all members - from Afghanistan to Zimbabwe and including the nine other Full Member nations and other ODI-playing countries at the very least - would make for at least a quibble a day. If not a bust-up over requiring constitutional amendments to do so.
Should the languages included be 15 or 50? And who from a member country decides what is the single national language that requires translating?
What will it be for India - only Hindi, or any other from among other 25 official languages? Which of the 11 South African or 16 Zimbabwean languages will require translation? Afrikaans or Zulu? Shona or Ndbele? And why not the others?
In the past, member boards have stepped in to translate for the benefit of touring journalists. During series in South Africa, I am told by ESPNcricinfo's Firdose Moonda, the Sri Lankan manager and the Pakistani media manager translated questions put to their players. Indian journalists have done so too, when asked, on overseas tours.
This may not be a burning issue, like that of umpiring or game-day regulations or the infernal DRS debate. Yet what this World Cup has done is stretch our minds as to how far cricket has moved beyond mere geographical borders and the gilded fences of convention and tradition. This Tower of Babel has grown strong enough to allow and require that different languages are spoken and are both heard and understood.