ICC CRICKET WORLD CUP 2015
Soumya Sarkar's shot in the dark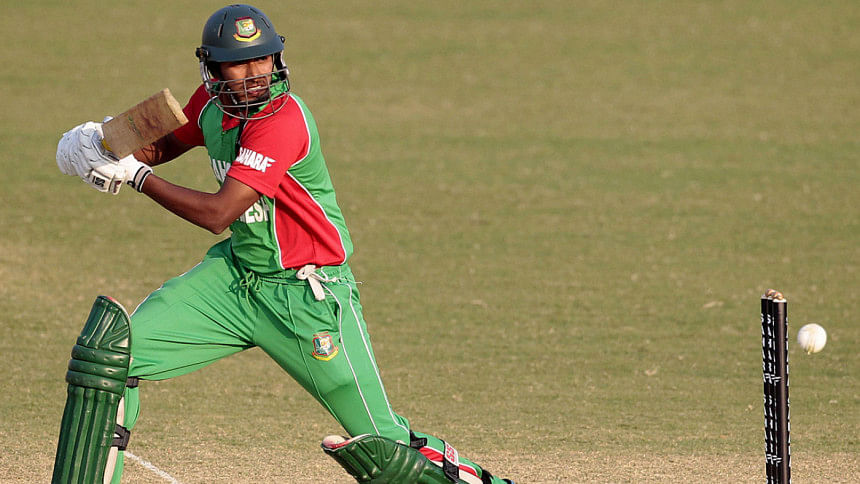 In dreams a woman or man you do not know may step out into view, and some quality pressing out of them is so unsettling, yet in such sharp focus, it is like they are sunset-lit. This person, the dreamer realises, will recur in future dreams, always disconcertingly, though never quite with the sting or sick feeling of the first time, and something similar, only rarer, can happen to the watcher, watching cricket. Our most obvious reference point from semi-modern days is David Gower. Seemingly shaking sleep out of his eyes and cobwebs from his honey-blond curls, he walked out to bat in 1978 for the first time. Liaqat Ali of Pakistan bowled, and this ball pitched short; Gower swivelled, pulling it to the fence. Liaqat, liquid. The shot was simultaneously the gentlest cuff and shocking to everyone watching, forcing them to stop, bask, take stock, puzzle, what's real, what's a dream, and this sensation would return, to varying lesser extents, on all their days afterwards watching Gower.
At Manuka Oval some days ago, seven days before he turned 22, Soumya Sarkar played a shot that effected a change in air pressure. He is from the Bangladesh/West Bengal border district of Satkhira. He wears a thigh pad on each thigh and his face clenches in such intense concentration at mid-pitch chats with his partner, a time when he is supposed to be relaxing, that the skin above his lip goes white. Sarkar looks tall. His official 5ft 10in seems as reliable as the official age of young Pakistani cricketers. The shot was a cross-whip through the midwicket gap. Trance-like and agitated was the state of this watcher, and there must have been others out there feeling it, hours later.
A shot by a young batsman, when it is the first time you have really noticed him, can do that. It is just a shot. But we can spy something in a shot greater than the sum of that shot's actual parts. There is a glimmer that comes to us in a moment of high excitement and no doubt. No way possible could this shot have been more perfectly played, and though it is not the shot we'd expected, given the particular ball bowled, it is unquestionably the right shot.
The sensation strikes the watcher maybe a handful of times their whole cricket-watching life. The young batsman will become an established batsman, later an old batsman. Many more times he'll play the shot, near-identical, subject to the barest technical tinkering, yet it will always feel slightly cruder, more calculated.
The shift is inside us. Our unguarded moment - that's gone. That premonitory jolt; the glimpse at all the future small happinesses the batsman has it in him to give - they have passed.
The first time, the shot comes to us wild, untrained, spontaneous. It is played by a 21-year-old - Gower's age, Sarkar's age, left-handers both - and it is a shot he cannot ever replicate. So even as it occurs, there is a strange melancholia, which, in our excitement, we push away.
Gower's first thought on playing the shot, according to his biographer Rob Steen, was "What have I done now?"
The watching world was tuned into Gower. Sarkar's was a shot in darkness. No word on the street pre-warned us; no trail of schoolboy records broken swirled behind him; his 27.5 average was from too big a sample, 60 first-class innings, to be considered skewed.
All we had was this, a youth in earmuff-sized earguards, tapping an un-cherried bat twice then dangling it aloft, towards slips, as he waited on a bearded but balding Afghanistan medium-pacer. Mirwais Ashraf landed the ball on a testing length in the dangerous millimetres between middle and off stump, angling across. Instead of working it, driving at it or riskily leaving it, Sarkar simply shoved his front foot across and, with a quiet violence, wristed it away, the wrong way. The ball careered through the leg side and Sarkar's brown eyes followed it until it hit the advertising boards. His score went from 1 to 5. Amazing, strong wrists made the shot possible and are his clearest pointer to batting giftedness, so far. But this was just his second ODI. He made only 28.
Little enough is known that we can imagine him into being. He has seen some of the world. He once Mankaded a batsman in Townsville, Queensland; he hit eight sixes and a double-ton in Kuala Lumpur. After a boundary he invariably chops a single next ball to third man. Running between wickets, he sways, clutching the bat two-handed, one hand round the top of the handle, the other gripping the blade's bottom. When he fields, he gambols. He has red-striped fielding boots, blue-patterned batting boots. He retired, dehydrated, on 51 in his latest first-class match and came back to get 70. On debut, aged 17, he opened for Khulna Division against Dhaka Division and made 24, all fours, in Rajshahi.
How many other batsmen have begun their first-class careers with six fours? Maybe no other batsmen.
Since the shot, he has batted once, making 25 in Melbourne. In it were three diamond-wristed cover drives. They coaxed the word "magical" out of Sunny Gavaskar's mouth in the commentary box. Walking off, metres from the exit, Sarkar wriggled his neck, yanked it around, twisted, craned it, not in the direction of the pitch, the action, but at the rising rows of untenanted blue seats of a seven-tenths-empty MCG. As if he had some sudden knowingness, "I'll be back," something we already knew.