Gayle's tattoo mystery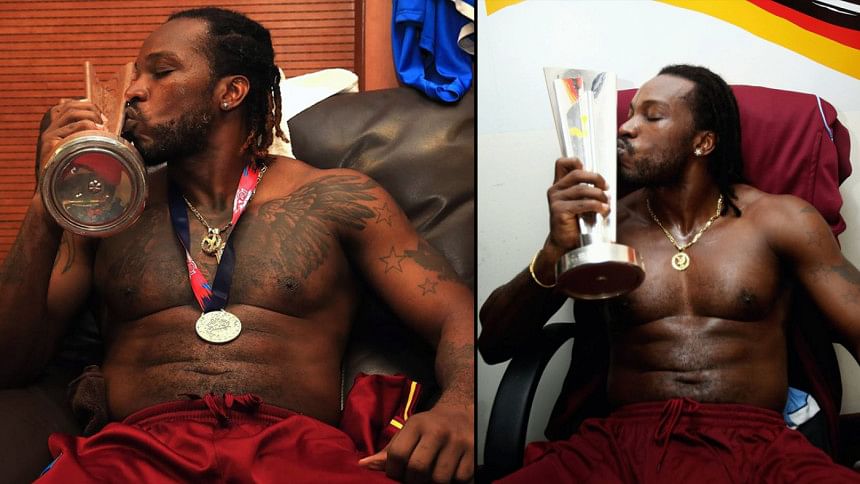 West Indian Chris Gayle, the brawny blaster of a batsman, the man who sets the cricketing stage on fire more often than not was pictured kissing the coveted ICC WT20 trophy without his shirt but with and without his beasty tattoo on his broad chest at the same time.
You think I'm kidding? The similar images of Gayle smooching the trophy were uploaded by International Cricket Council ICC's Facebook verified page at the same time, both of which you can still see at the aforementioned webpage.
If you care to look closely, you'll notice that both the images of Gayle were published approximately 11 hours before this article was written. In one, there is a huge eagle-bird-like smeared tattoo on Gayle's chest, however in the other the tattoo is absolutely gone…as if someone removed it like a sticker…and that too in a snap!
As a neutral observer with OK eyesight, I can't get over this Chris Gayle tattoo mystery whatsoever…How is this even possible?
A coincidental mystery….must be so! West Indies won the T20 WC in 2012 as well, but the timing of the uploads and the similarities are too fluky to be true.
See the photo set in your eyes
See the tattoo on Gayle's hide
I'll bet you do…
Sleight of hand and photo-shopped fate
Tattoo mystery makes me wait
And I bet you too…
With or without tattoo
With or without tattoo
I can't believe with or without tattoo.