World media pays tribute to Iniesta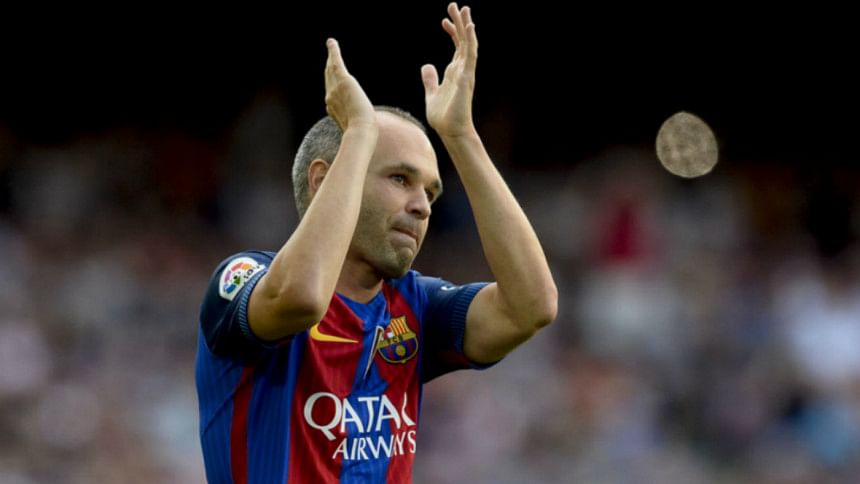 Barcelona's Andres Iniesta looks set to embark on a new adventure as the midfielder will announce his future within the next few days.
The diminutive midfielder is a player adored all over the world for the way he plays his football. Always with a calm head on his shoulders and with a certain grit and mental strength that one does not usually expect from a humble genius.
Iniesta might have played his last final for his dream club FC Barcelona, but Don Andres did not fail to mark the occasion with a goal as Barca thumped Sevilla 5-0 to give Iniesta his 31st club trophy.
Along with his trophies at Barcelona, Iniesta has also won two European Cups and a World Cup with Spain.
He is also the only player to have been named as the man of the match in the final of a European Championship, the World Cup and the UEFA Champions Leagues.
These achievements might not speak about Iniesta's overall abilities but they do speak of his ability to appear in the most important games.
Iniesta is one of those timeless genius that never failed to surprise football fans. The simplicity of his effectiveness can render defenders numb and he floats on a football pitch as if doing a ballet dance.
While Don Andres likes to be a 'discreet genius', nevertheless the fans at the Wanda Metropolitano and the media did not shy away from applauding this intelligent footballer.
Barcelona based SPORT wrote: "Long live the king! (referring to Iniesta) Barça were crowned kings of the Cup again after picking up the trophy for the 30th time. The game turned into a tribute to Iniesta, who had a dream farewell."
Madrid based AS went with the headline "Iniesta, don't leave!".
Marca meanwhile said: "The last emperor. Iniesta leads a historic Barça win before embarking for his Chinese adventure."
Spanish Daily La Voz de Galicia's headline said: "King Iniesta's Cup".
Forbes headline said: "The Sublime Andrés Iniesta Wins His 31st Club Trophy And Barcelona The 2018 Copa Del Rey."
Guardian wrote: "Departing Andrés Iniesta the star as Barcelona cruise to Copa del Rey."