Tough lesson for RB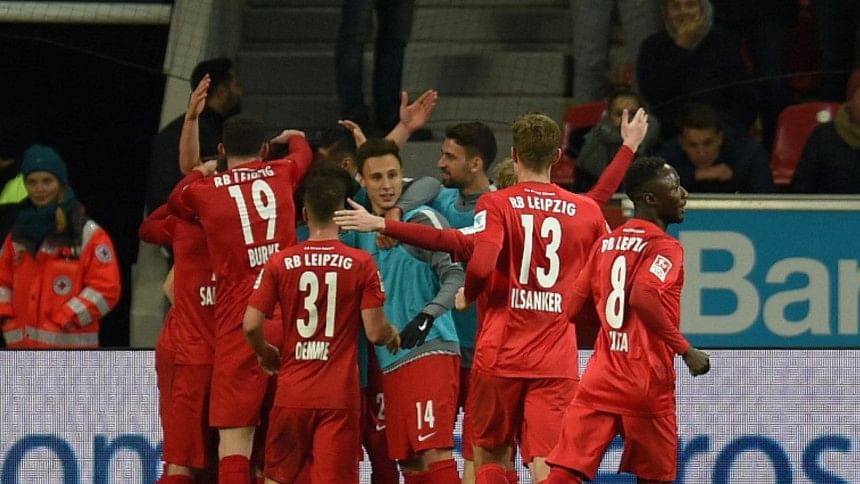 Ralph Hasenhuettl admitted 10-man RB Leipzig had been taught a tough "lesson" as leaders Bayern Munich handed out a 3-0 hammering to their nearest Bundesliga rivals.
Bayern coach Carlo Ancelotti hailed a "perfect" opening 30 minutes in which Thiago Alcantara and Xabi Alonso scored early goals before Leipzig winger Emil Forsberg was shown a red card for a dangerous tackle.
It left the visitors to play an hour on Wednesday at Munich's Allianz Arena a man down in the top-of-the-table clash.
Leipzig goalkeeper Peter Gulacsi then compounded his team's problems by fouling Douglas Costa to concede a penalty which Robert Lewandowski converted on 45 minutes to make it 3-0.
The result left Munich three points clear of their battered opponents at the top of the German league table heading into the winter break.
"That was a lesson, it was a top show from Bayern," admitted Leipzig coach Hasenhuettl.
"Our system only works when everyone is in sync and we had a few players who weren't 100 percent fit.
"You can't do much to defend against Bayern when they play like that."
Any chance Leipzig had of clawing their way back from 2-0 down was ended by Forsberg's dreadful tackle on Philipp Lahm when the Sweden international trod on the Bayern captain's Achilles tendon.
"We don't need to talk about the red card by Emil," added the Leipzig boss.
"We all make mistakes, so I'm not going to demonise him, but I'm still proud of how the team has done so far."
Prior to the Munich showdown, Leipzig had kept Bayern off top spot for three weeks at the start of the month and the two teams have been in a neck-and-neck battle since.
But Ancelotti's side dominated and shut Leipzig out after the break as they used their 75 percent possession to dish out a masterclass to their young rivals, who are in their first German league season.
"We were very aggressive and quickly established control," said Bayern's Italian coach.