'Spurs won't stop believing'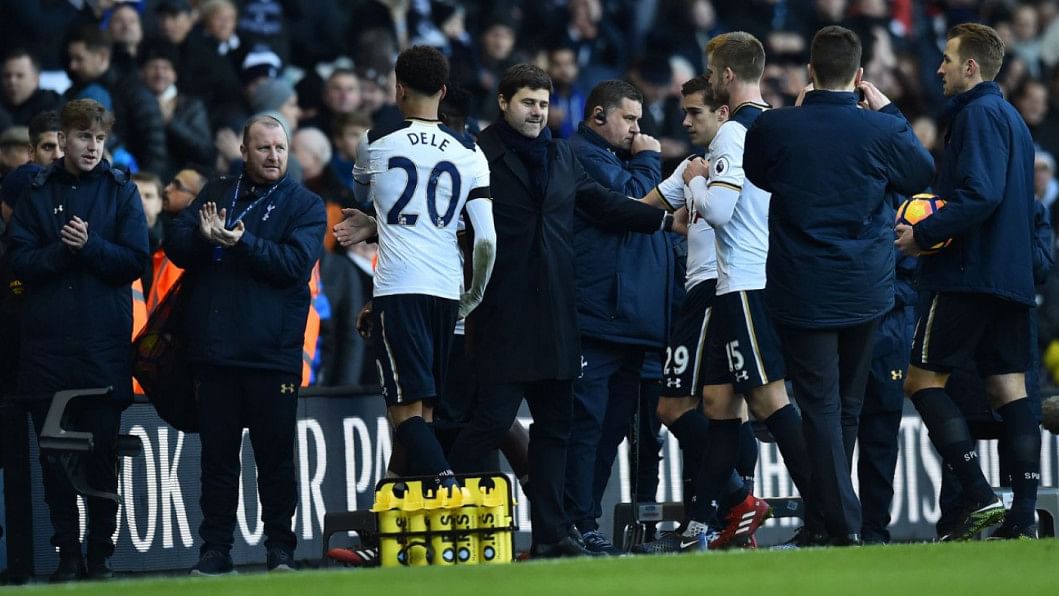 Hugo Lloris insists Tottenham still believe they can win the Premier League despite the shattering blow of their FA Cup semifinal defeat against title rivals Chelsea.
Mauricio Pochettino's side left Wembley broken hearted on Saturday after dominating for long periods before conceding two late goals in a dramatic 4-2 loss.
The psychological damage inflicted on Tottenham's players can't be underestimated and they have little time to recover as the title race heats up this week.
Second placed Tottenham are four points behind Chelsea, but the leaders can extend the gap to seven if they beat Southampton at Stamford Bridge on Tuesday before Pochettino's men travel to in-form Crystal Palace on Wednesday.
While Lloris acknowledged Chelsea now have renewed confidence they can hold off Tottenham's challenge in the final six games of the season, the France goalkeeper is convinced his club won't surrender without a fight.
"We know Chelsea have an advantage but we need to believe until the end," Lloris said.
"We knew before that this game can have maybe an impact for the rest of the season.
"But in football you need to believe because everything is possible and we don't know what will happen in the next few weeks.
"They are human and that's the case for us. The only thing that we can do is keep working hard, keep believing and playing the same way that we play in the last few weeks."
Losing at Wembley capped a miserable few days for Tottenham after the club was rocked by the sudden death of their Under-23 coach Ugo Ehiogu earlier in the week.
Harry Kane, who scored Tottenham's first equaliser on Saturday, revealed his team have dedicated their title chase to former England defender Ehiogu.
"Of course the last couple of days have been tough," Kane said.
"Ugo was a great character around the training ground, it was just shocking news to be honest.
"Of course we'll do everything we can to win the league for him."
To have a chance of honouring Ehiogu with the club's first title since 1961, Tottenham need to extend their current seven-game winning streak in the league.
Kane knows the pressure is on and there was a hint of frustration in his voice as he tried to deliver a call to arms ahead of the trip to Selhurst Park.
"It's hard to say what effect it will have. Of course we wanted to win and keep our momentum going but it didn't happen," Kane said.
"There's nothing we can do now. We can't control what Chelsea do, if it gives them more momentum, it gives them more momentum. We've just got to concentrate on our game.
"We've got six very difficult games home and away so we'll do everything we can to get as high up the league as we can."
Deep in relegation trouble when Sam Allardyce took charge in December, Palace have climbed seven points clear of the bottom three thanks to a series of shock wins.
After beating Chelsea and Arsenal, Sunday's 2-1 win at Liverpool was Palace's latest scalp, but Eagles boss Allardyce wants his team to keep their foot on the gas against Tottenham because he doesn't believe they are safe yet.
"Thirty eight points has been the target to be safe for a long time but we're not mathematically safe yet," he said.
"Five games to go, we need to pick up as many points as we can.
"Then when we are safe we will have a little celebration."