Sk Jamal retain title
SHEIKH Jamal 6 - 4 Muktijoddha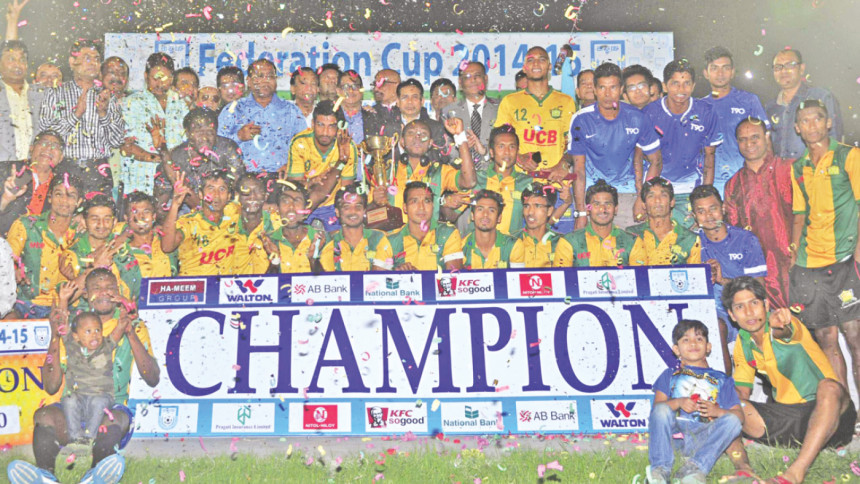 Sheikh Jamal retained the Federation Cup with a 6-4 win over Muktijoddha Sangsad in a pulsating final at the Bangabandhu National Stadium yesterday.
Nigerian hitman Emeka Darlington and substitute Rubel Mia struck one goal each in the second half of extra-time to deliver the third title in fifth successive final appearance for Sheikh Jamal after the regulation time produced a 4-4 stalemate in an enthralling encounter at the big bowl.
Though Emeka and Rubel finally made the difference in the game, it was Haitian hitman Wedson Anselme, who struck a hattrick that brought Sheikh Jamal back into the match after going 2-4 down against a matured Muktijoddha Sangsad at one stage.
Just when it seemed that Muktijoddha Sangsad would go on to break their 10-year title drought as they were convincingly leading by 4-2 goals, they had to surrender the advantage in the face of constant attacks from Sheikh Jamal.
Wedson struck a brilliant brace in the second half -- in the 62nd and 70th minutes -- to level the margin and took the game into extra-time.
Sheikh Jamal got off to a brilliant start with a 6th minute strike from Emeka but the lead lasted only two minutes after Muktijoddha defender Yeamin Munna equalised.
Six minutes later, Sheikh Jamal restored the lead with a placing shot from Wedson but they were soon stunned by national discard Enamul Haque, who scored a brace in the 39th minute and 41st minute to provide Muktijoddha Sangsad a hope of regaining the title after 10 years.
"Despite going 2-4 down, we never gave up the hope and I knew the boys have the ability to come back and they did it accordingly," said Sheikh Jamal coach Maruful Haque.
As there was hardly any difference between the players of two sides, it was a game of two tacticians and Marful Haque had the last laugh over veteran coach Abu Yousuf.
"The players were instructed to put the ball behind the backline of Muktijoddha Sangsad which is a weak area of the opponents and the boys played accordingly to leave the field with a win," said Maruf.
Abu Yousuf blamed a lack of fighting spirit from his charges that caused them to surrender the lead and thus award the match to the opponents.
"Sheikh Jamal have a lot of quality players in reserve bench which I don't have and it made the difference as I saw my substitute players struggle to cope up with the pace," said Yousuf who gave up hope for a win after man-of-the-match Wedson struck the equaliser in the second half.