Ronaldinho lights up Barca-Man United legends match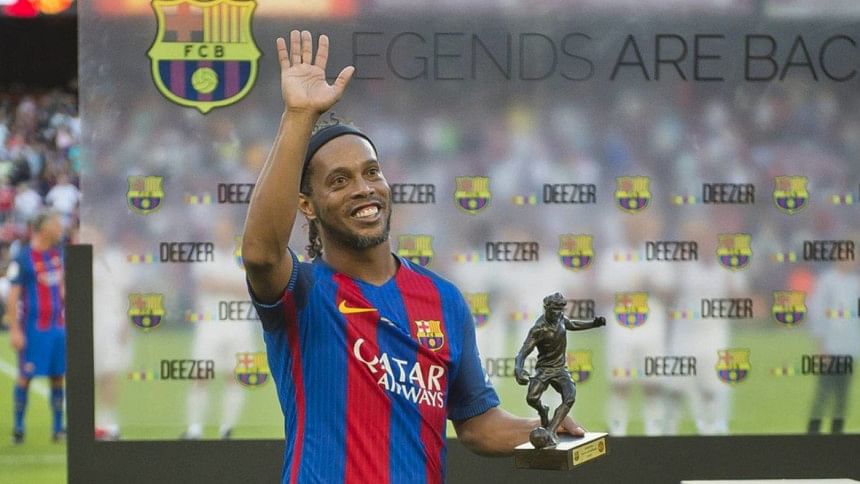 Legends from Barcelona and Manchester United played at the Camp Nou in a charity match which featured the likes of Brazilian genius Ronaldinho and Rivaldo.
The Manchester United legends produced a brilliant performance as manger Andy Ritchie played a three-man defence against a strike force containing Patrick Kluivert, Ronaldinho and Rivaldo.
Goals from Jesper Blomqvist, Karel Poborsky and Dwight Yorke earned Manchester United an impressive away victory at the Camp Nou.
Ronaldinho who was the best player in the world for two seasons while playing at Barça and reminded the crowd why he was so special. The front three combined with ease and produced beautiful footballing moments while the midfield engine of Edgar Davids also showed his class.
According to Barcelona's official site, the first half was an equal affair. A great Ronaldinho free-kick two minutes in almost gave his side the perfect start but Van der Gouw produced a top quality save. Brazilian full-back Belletti also went close down the right in a move reminiscent of his most famous goal in the Paris final.
Manchester United official site said Ronaldinho, who was voted Man of the Match, rolled back the years with outrageous skill, most notably a nutmeg on Blomqvist, and virtually every pass was a no-look one.
Rivaldo was also at his mesmerizing best, linking in tight spaces and opening up the Manchester United defence. He teed up Patrick Kluivert but the opportunity was lost in the friendly encounter.
Blomqvist scored from a rebound to give United the lead and the only goal of the first half.
For all of Barça's excellence and joyful football, they couldn't quite manage to finish off the numerous chances they created.
A neat move led to Yorke feeding Park Ji Sung and Poborsky's finish took a wicked deflection off Dehu to double United's lead.
Ronaldinho released Rivaldo in an incredible moment reminiscent of their performance in the 2002 World Cup. Rivaldo added to the magic of the pass by trying a rabona flick which went just inches wide of the post, the moment enthralled the spectators even though it didn't result in a goal.
United scored again in the second half before Barcelona pulled one back courtesy of Dehu. Some nice touches from instigators Ronaldinho and Kluivert created the move. The match ended 1-3 in favor of Manchester United.
The proceeds from the match will go to the PCCB (Pediatric Cancer Center Barcelona) project at the Hospital Sant Joan de Déu, which aims to guarantee paediatric treatment for ill children.
FC Barcelona: Angoy (Guzman 73); Belletti (Dehu 36), Nadal (Andersson 46), Edmilson (Amor 67), Goikoetxea (Juan Carlos 73); Giuly (Kluivert 13), Davids (Estebaranz 82), Mendieta (Popescu 56), Simao (Ezquerro 46 (Salinas 84)); Rivaldo (Carreras 73), Ronaldinho.
Manchester United: Van der Gouw (Pilkington 46); Brown, Johnsen (Martin 53), Silvestre; Poborsky (Thornley 65), Park, Smith, Djordjic (Beardsmore 74), Blomqvist (Blackmore 74); Yorke, Saha (Webber 56).