Ranieri impressed by Slimani-Mahrez double act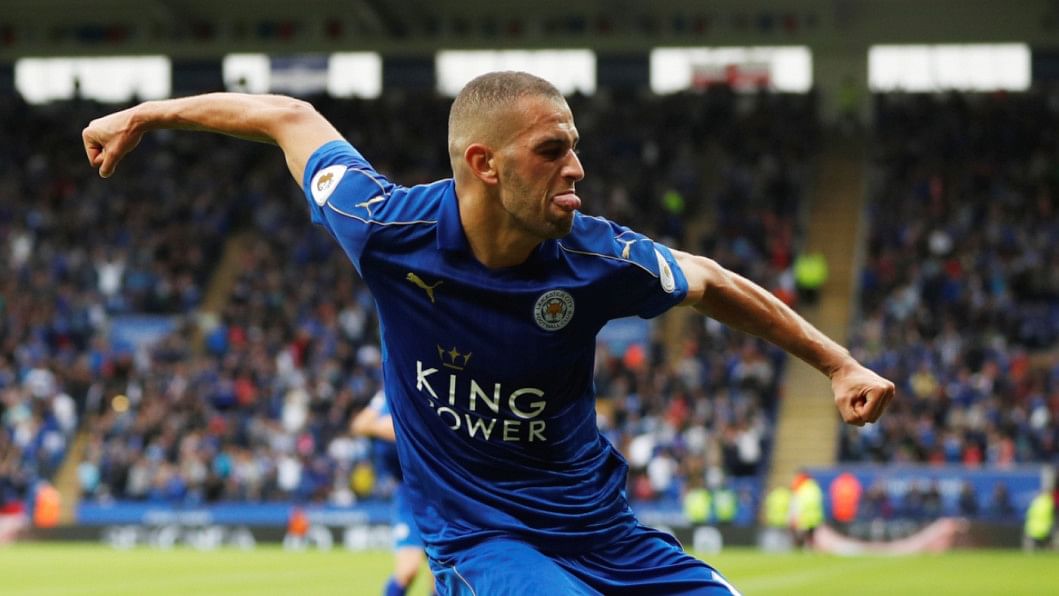 Claudio Ranieri believes Algerian duo Islam Slimani and Riyad Mahrez can form a deadly double act for Leicester after the Algerian duo inspired a 3-0 win over Burnley.
Slimani scored twice on his Premier League debut for the champions on Saturday, while fellow Algeria international Mahrez displayed the form that saw him voted player of the year last season.
The pair linked up impressively with Leicester striker Jamie Vardy and Foxes manager Ranieri believes they will relish joining forces at club level.
"It's good for Slimani and good for everyone," Ranieri said. "It was a very good performance from him, as well as his team-mates.
"He linked very well with Vardy and the others and he pressed so hard during all the match. We bought him for these characteristics.
"Riyad made two fantastic performances, in Brugge in the Champions League and here and I'm very pleased when he plays in this tactical way because he was very clever he's very clever when to attack, defend, and play in between the lines.
"Of course he's happy with Slimani being here – but he's happy with everybody."
Ranieri's men followed their 3-0 Champions League win at Club Brugge in midweek with the same scoreline against Burnley.
Goalkeeper Kasper Schmeichel missed out with concussion and Danny Simpson returned from injury but Ranieri otherwise named an unchanged team.
The Italian is planning changes for Tuesday's English Football League Cup clash with Chelsea but he believes consistency was important from Brugge to Burnley.
Momentum
"I didn't want to make many changes, just the keeper and right back because I wanted to keep our momentum," Ranieri said.
"It was important for us to win and 3-0 is good – now we are in the top half of the table and our focus is in EFL Cup against Chelsea.
"I'll make changes because have very good players they show me they are strong.
"I'm very pleased, it was important to win after the Champions League victory against a good, well organised team.
"We tried to find a solution to score but they closed all the space.
"Then when we went wide and crossed they suffered a little more and we scored at end of first half and beginning of second.
"It was great for us because after that we controlled the ball much better."
Burnley acquitted themselves well for much of the first half but were put to the sword after Slimani scored his first goal in English football in first-half stoppage time.
"Unfortunately it was four minutes of madness two minutes before and two minutes after half-time," Burnley manager Sean Dyche said.
"The idea was to keep the ball better and kind of slow Leicester's tempo down.
"We didn't penetrate as much as I would like but it's difficult at this level because they are a good side.
"Then two minutes of madness just before half-time culminated in giving a soft free-kick away and they got a goal.
"The second half one was a little bit unfortunate that it hit someone on the knee, someone on the heel and someone on the head and it goes in.
"After that they are a good side and they proved that.
"When you go 2-0 up and you're playing the Premier League champions it's not impossible but it's improbable that you come back from that."