Young Elephants down Mohun Bagan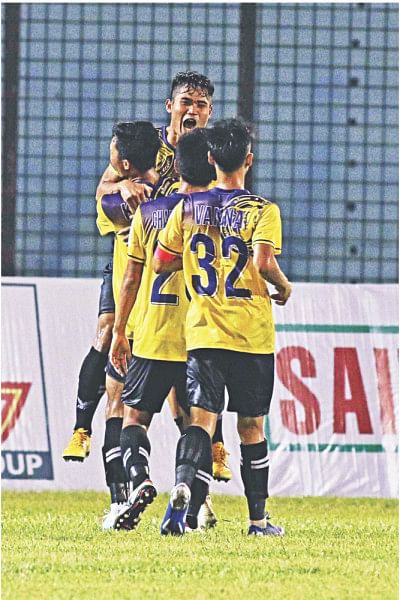 Young Elephants of Laos staged a massive surprise on the second day of the Sheikh Kamal International Club Cup, beating Kolkata giants Mohun Bagan 2-1 in an entertaining Group A fixture at the MA Aziz Stadium in Chattogram yesterday.
The unfancied side from Southeast Asia, who have come with a very young group of home grown players, fought back from a goal down to cancel out Mohun Bagan's early lead. And then down to 10 men, the Laotians scored the winning goal to make a massive dent in the chances and pride of one of the oldest and most decorated clubs of South Asia.
Despite it being a pre-season tournament for them, Mohun Bagan came to Chattogram with high ambitions and boasting five foreign players. But their performance on the pitch failed to match their reputation as they found it hard to get the better of the Young Elephants.
The match could have gone either way, but the tactical superiority of Young Elephants coach coupled with a clinical effort from their players eventually had the Southeast Asians on the winning side.
Kibu Vicuna's Mohun Bagan took the lead in the 18th minute when Joseba Beitia's corner was headed towards the far post, where Julen Olaziola found the net with a diving header.
The Spaniard then hit the post with a powerful header on 36 minutes before Somxay Keohanam scored the equaliser six minutes later with a clever chip after Chanthachone Thinolath had set him up following a mazy dribble into the box.
Both sides had chances to win the game in the second half as a brilliant 25-yard strike in the 72nd minute from Keohanam cannoned off the crossbar before Mohun Bagan were awarded a penalty in the 86th minute after Olaziola was brought down inside the box.
Young Elephants were reduced to 10 men for that offence but Beita's effort was blocked by Young Elephants goalkeeper Xaysavath. The goalie released the ball quickly and Keohanam finished the move with a powerful volley on a superb cross from skipper Vanna Bounlovobgsa.