Where could Messi go?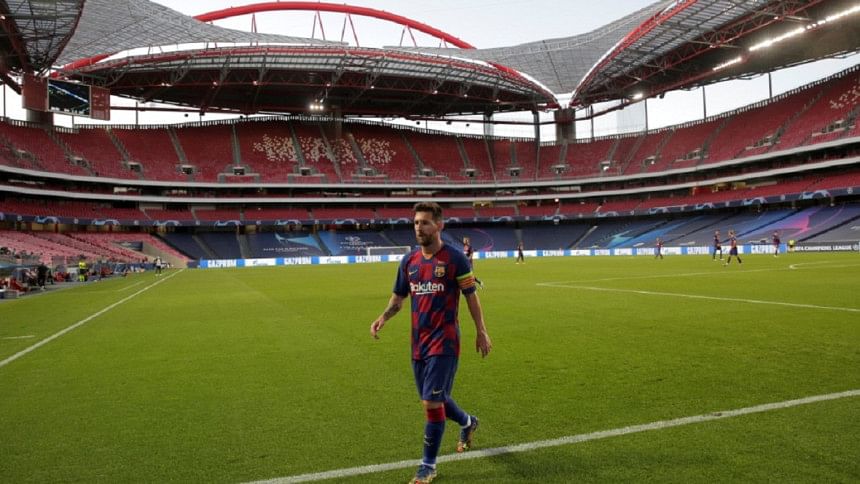 Even at the beginning of the season, not many could possibly have anticipated that Barcelona and Argentine legend Lionel Messi would be considering a move away from Barcelona -- a club of which he has been a part of since age 13. But that could well be a reality now after the 33-year-old has reportedly told his lifelong club Barcelona that he wants to leave. 
Any club in the world, surely, would jump at the opportunity to recruit the Argentine superstar. But his situation is complicated, and realistically only a small number of candidates have a chance of securing his signature.
So what are the clubs Messi could sign for? Let's take a look at his possible destinations. 
Messi to Manchester City? 
Messi could be tempted to reunite with Pep Guardiola, his former coach at Barcelona and the manager who oversaw his meteoric rise to becoming one of the greatest players in the world. 
Moreover, Manchester City are said to be one of the few clubs who are financially capable of signing Messi. 
The one piece of silverware Manchester City are desperate to get their hands on is the Champions League trophy. And bringing in Messi, four-time winner of the Champions League, on board is sure to make City an unstoppable force in Europe.
Messi to PSG?
Another club that has the financial capability to sign Messi is PSG. Since 2011, PSG has been owned by Qatar Sports investments, run by that country's ruler, Tamim bin Hamad Al Thani, and has splashed over $1 billion on players. 
Ever since Neymar's transfer from Barcelona to PSG in 2017, Messi has been a component in Barcelona's ongoing pursuit of bringing the Brazil international back to Camp Nou. A likely reunion with his former teammate could well play a role in Messi's next move. 
Also, PSG are also desperate to lift the Champions League for the first time in club history, and the heartbreak from their recent loss in the final against Bayern might give them increased motivation to sign Messi. 
Messi to Inter?
Another strong contender linked with Messi is Inter Milan. According to Marca, Inter would be ready to splash out a four-year deal for the Argentina international and are prepared to make him the highest-paid player in Italy, ahead of Juventus' Cristiano Ronaldo.
Joining Inter would allow Messi to prove once more he can lead a club to success, and it would allow him to renew his rivalry with the other best-player-in-the-world, Cristiano Ronaldo, who moved to Juventus from Real Madrid.
Inter is backed by the Chinese holding group Suning, so finances could realistically be procured, and recent changes in tax law in Italy have made the league more attractive to high-earning footballers, meaning clubs can more easily match the wages of English and Spanish competitors.
What other clubs Messi could sign for?
Manchester United and Bayern Munich could be two other destinations for the Argentine superstar. Manchester United were once rumored to be targeting Messi with  a €120 million (£108m/$136m) part-exchange offer. But it seems unlikely that Messi would join a club that are fighting to regain their prestige in England. 
Meanwhile, Bayern could be another possible destination for Messi as the German club remain as one of the few that could match his reported gross annual salary of €50-70 million that he was receiving at Barcelona.