Uzbek show at BNS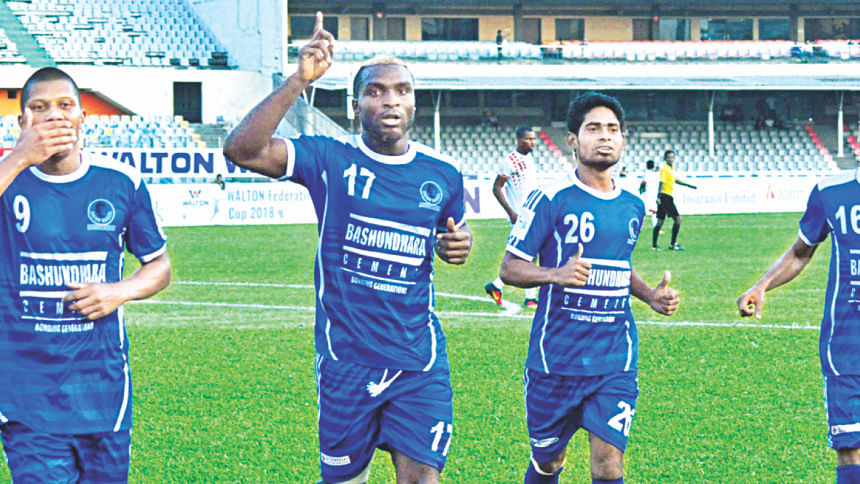 Uzbek striker Otabek Valiionov scored a hattrick to power Team BJMC to a come-from-behind 3-2 win over 10-man Brothers Union in the Walton Federation Cup after Sheikh Russel KC beat Muktijoddha Sangsad 2-0 in day's first match at the Bangabandhu National Stadium yesterday.
Season's first treble by Valiionov means Team BJMC kept their quarterfinal hopes alive despite a 3-1 defeat against Saif SC in their first match while Sheikh Russel, along with holders Abahani, ensured their last eight berth while sending Muktijoddha Sangsad packing.
Valiionov, who had initially come here for a trial with Muktijoddha Sangad, shone in his second match to help BJMC come from behind twice to notch the thrilling win over Brothers. The Oranges looked well on course for a victory after Brazilian striking duo of Lima Leonardo and Santos Souza kept Brothers defenders on their toes, but Valiionov had other ideas.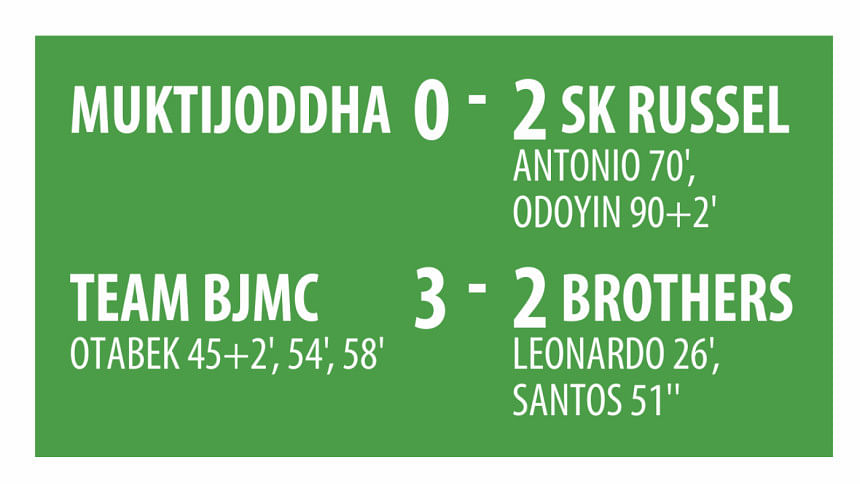 The 29-year-old forward first cancelled Leonardo 26th-minue strike in the stoppage-time of the first half as his free-kick embraced the back of net with a deflection off the wall. Brothers restored the lead six minutes into the second half when Santos made a diving header on a Leonardo cross but Valiionov equalised again on 54 minutes, this time with another free-kick from the edge of the box after Khan Mohammad Tara was sent off for a second offence.
Valiionov, who played for Uzbekistan Olympic team, drove the final nail into Brothers' coffin after darting into the box from the left flank to curl the ball into the far post with in the 58th minute. 
In the day's first match, Sheikh Russel KC, one of big-spending outfits this season, were unimpressive against Muktijoddha Sangsad, yet were lucky to leave the field with three points, thanks to a fumble from Muktijoddha defender Sean Anthony Bateau.
The Trinidad & Tobago defender failed to clear a long ball outside the box and allowed Sheikh Russel forward Rafael Odoyin to enter the box and place it the left-hand side of advancing goalkeeper Arifuzzaman Himel in the 70th minute.  Brazilian forward Antonio Da Silva wrapped up the victory for with a stoppage-time strike after availing a forward-pass from Odoyin.
Muktijoddha Sangsad were the better side in the first half and created a couple of scoring opportunities but Japanese forward Yousuke Kato wasted two sitters.
After resumption, Sheikh Russel looked better and pressed high to expose Muktijoddha defence and cashed in on those opportunities to leave the field with heads held high.
"We were not impressive like other teams because the boys could not perform the way we wanted to play. We could not penetrate them in the attacking third but we were lucky enough to get full three points as Muktijoddha Sangsad made mistakes in the match," said Sheikh Russel coach Saiful Bari Titu.
Meanwhile, the tournament will go into a two-day break from today due to a concert at the venue arranged by the government's Ministry of Cultural Affairs.