Training the key to Robinho's success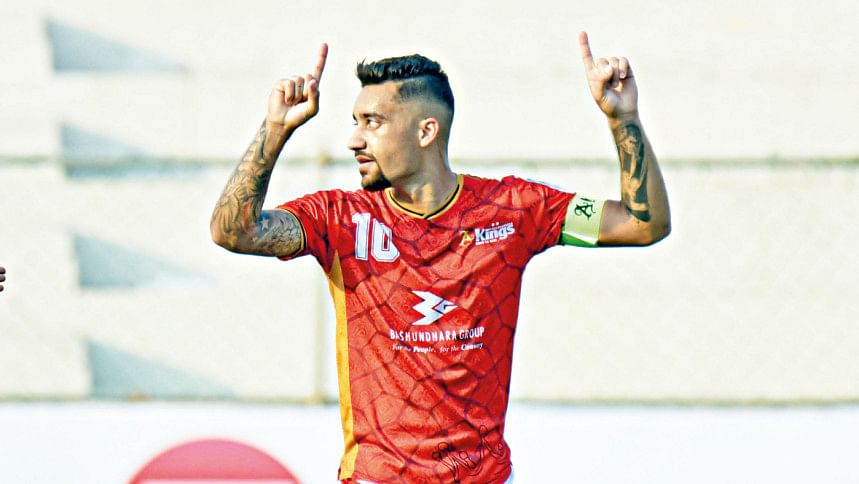 Robson Robinho was one of the major architects behind Bashundhara Kings' domestic double in his debut season in Bangladesh football, scoring 24 goals. This year, too, the Brazilian forward is leading the side from front, having scored 11 goals in 15 matches to stay in third position in the, five behind top-scorer Peter Thankgod of Chittagong Abahani.
While Robson would love to finish as the top-scorer again, Robson is more focused on helping his team win the league title after missing out on the other two domestic trophies as well as a disappointing AFC Cup campaign.
"Of course, I would like to be the top scorer in the league again, but first focus is to be champions and then I can think about the top-scorer," Robson recently told The Daily Star. "We will put our full focus on the league and we will continue our work game by game, this is how we can win the title."
"There's no secret for me in helping the team getting goals. I always train a lot so that in the game I can do what I do in training," said the forward, adding, "As I always said we have the best local players in the country and with the work of the coaches, we were able to have a good first phase of the league."
It is believed that the intensity of the Bangladesh premier league matches is less than some of the other top leagues in the region, a reason why the Bangladeshi players fail to keep up against opposition teams in international matches.
"International competition is much more intense than [Bangladesh] league matches because in league we lose a lot of game time, and in international competition the ball is always on the field and players do not take too long to charge the full-back or the goalkeeper taking the time to kick the ball," observed Robinho.