Top Argentine club keen on helping Bangladesh football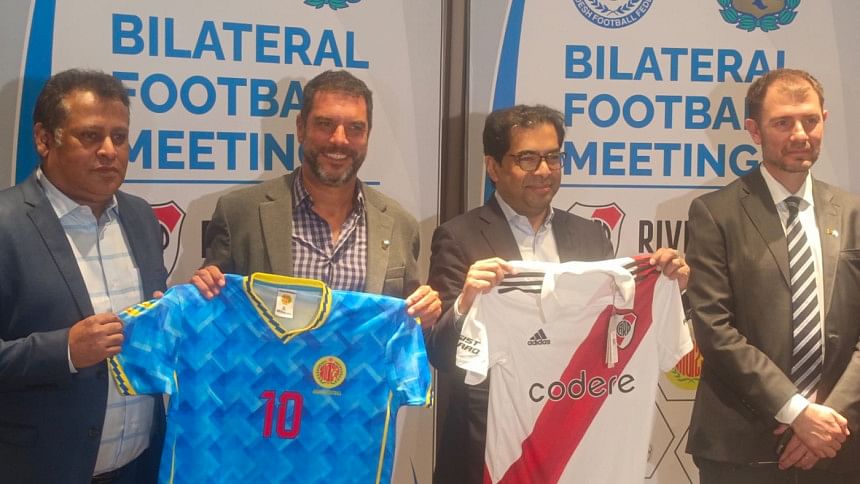 A representative of Argentina's most successful football club, River Plate, said that the club is interested in sending its technical staff and experts to train top Bangladeshi clubs groom their young talent.
Sebastian Perez Escobar, the president of the department of national and international football schools of River Plate, said this while talking to media at a hotel in the capital on Monday during meetings with representatives of top five clubs of Bangladesh.
Escobar is part of the Argentine foreign minister's entourage, who are on a two-day state visit to Bangladesh, with the tour focusing on enhancing bilateral relations between the two countries including diplomatic, economic, cultural and sporting ties.
"We are here to explore opportunities to help a club in grooming young players as we have good academies. We have 25 academies, five of which are outside Argentina. This will be a first-time for us outside of South America and Europe because we know about the passion for football and for Argentine football among the people of Bangladesh," the River Plate representative told the media.
Escobar mentioned that River Plate, which has won a record 37 premier league titles in Argentina and 18 international trophies, groomed eight players in their academies who went on to win the FIFA World Cup with Argentina last year.
"We are holding talks with the club officials today, and we will visit Bashundhara Kings ground tomorrow. We will send proposals to the clubs and after assessing everything, we will decide with which club we will come into agreement," Escobar further said, adding that they can use their expertise in sending coaches and academy teams here and also invite Bangladeshi young players to train at their academy.
The representatives of the five clubs to meet the Argentine delegation were Bashundhara Kings, Abahani, Sheikh Jamal, Sheikh Russel and Mohammedan Sporting Club.
Abahani's director and vice-president of Bangladesh Football Federation Kazi Nabil Ahmed said that they were happy to have the discussion with the Argentine club official. 
"As you all know we are building a sports complex at Abahani club which will have outdoor and indoor sports facilities. We plan to have a football academy there, so if the proposal from the River Plate club is suitable for us, we will definitely be glad to avail and exchange cooperation with them," Nabil said.