Saif beat Abahani after four years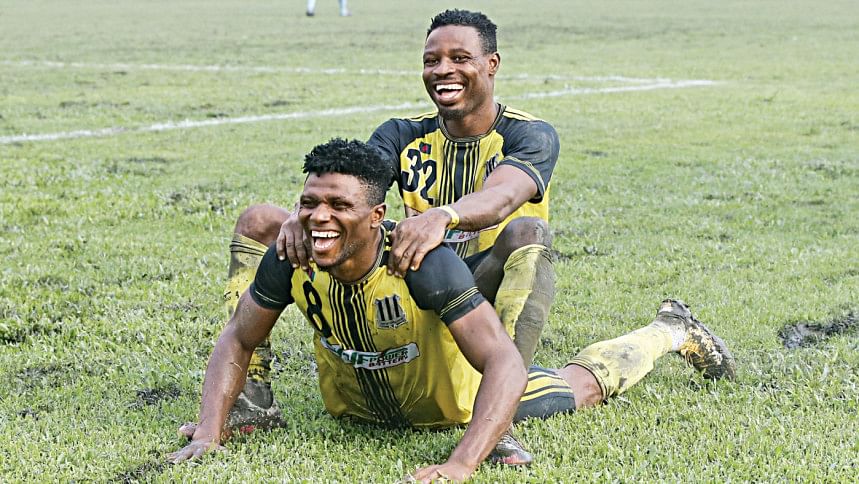 A brace from Nigerian forward Kenneth Ikechukwu helped Saif SC to a 3-2 win over six-time champions Abahani after four years in a Bangladesh Premier League match at the Bangabandhu National Stadium yesterday.
On their debut season in 2017-18, Saif surprised Abahani with a 1-1 draw in their maiden meeting during the Federation Cup before beating the country's most successful club 2-1 in the reverse fixture Bangladesh Premier League following a 3-2 defeat in the first league meeting. It was Abahani's second league defeat at the hands of Saif SC in six league matches.
Saif SC, however, were lucky to register their 11th win in 20 matches as Abahani forwards Faisal Ahmed Shitol, Jewel Rana and Kervens Belfort squandered numerous chances before Saif capitalised on two counter-attacks in five minutes to take a 2-0 lead before the break.
Saif SC goalkeeper Pappu Hossain also made two brilliant saves before Nigerian duo of Ngwoke and John Okoli struck one goal apiece.
Okoli ran down the left flank to advance into the box before chipping it to compatriot Ngwoke, who drove it in the air to find the back of the net in the 43rd minute with substitute goalkeeper Sultan Ahmed looking helpless at near post while Okoli beat Sultan with a grounder from 25 yards in the stoppage time of the first half to double the margin.
After resumption, Belfort reimbursed one with his second effort in the 76th minute before Jewel Rana drove a cutback home to level the margin two minutes later.
Abahani goalkeeper Sultan showed incompetence in conceding the third goal when Ngwoke drove one from outside the box in the 81st minute.  A third defeat left Abahani in third position, two points behind Sheikh Jamal, who have 42 points with a game in hand.
In the day's other match, Bangladesh Police beat Muktijoddha Sangsad 3-1 to raise their tally to 22 points from 20 matches, seven more than 11th-placed Muktijoddha Sangsad.