Ronaldinho denies crypto scam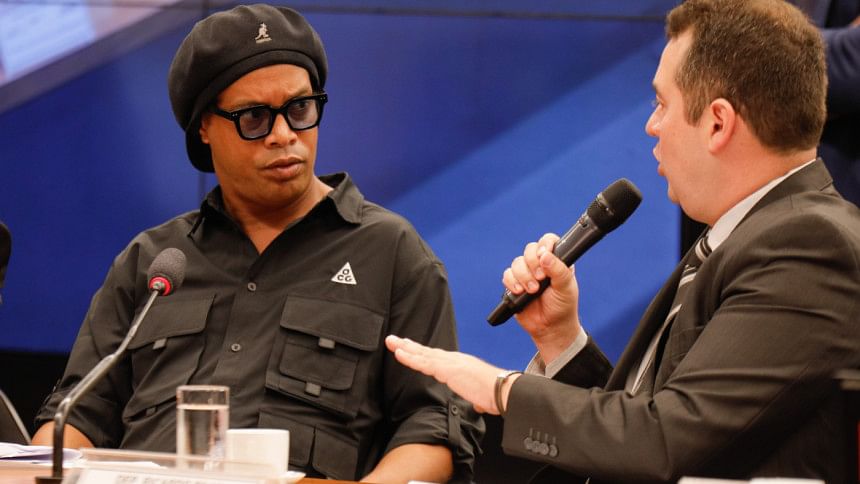 Retired football great Ronaldinho denied involvement in an alleged cryptocurrency pyramid scheme bearing his name in testimony Thursday before a Brazilian congressional committee.
The ex-Barcelona and Paris Saint-Germain star, who won the 2002 World Cup with Brazil, told lawmakers his name and image had been used without his consent by 18K Ronaldinho, a firm accused of defrauding investors with false promises of returns of up to 400 percent.
"It is not true I am the founder and controlling partner of 18K Ronaldinho," the 43-year-old former player told the lower-house committee investigating the alleged scam.
Wearing dark glasses and a black beret, he said he had signed a marketing contract in 2016 with a US company called 18K Watches.
Unbeknownst to him, images taken for that campaign were then used to market 18K Ronaldinho, he said.
He told lawmakers he had learned his name was being used by the company but did not take legal action, saying he himself was a victim of the alleged scam.
Ronaldinho had failed to appear at two prior hearing dates set by the committee. Lawmakers had threatened to have police compel him to testify.
He declined to answer many of their questions during the two-hour hearing, invoking the right to remain silent.
His brother and business representative, Roberto de Assis Moreira, testified before the same committee last week.
Ronaldinho was criminally charged in the case in February 2020, after hundreds of victims lodged a complaint against the company for more than 300 million reais (around $61 million).
Days later, he was arrested in Paraguay for using a forged passport.
He was detained for more than five months before being released.