Robiul eager to make good of new life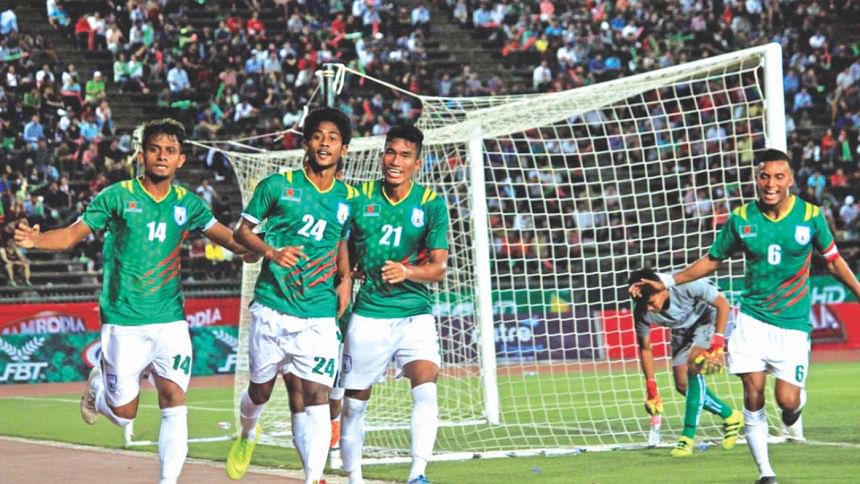 Before going out of radar of the national team, winger Robiul Hasan had earned the 'super sub' tag by scoring three goals against Cambodia, Laos and Bhutan, having come off the bench in those matches.
Of the three goals, two were decisive ones against Cambodia and Laos, with the latter one leading Bangladesh to a 1-0 on aggregate win in pre-qualifying stage of the Qatar World Cup Qualifiers.
Since making his international debut against Sri Lanka in a FIFA friendly match in Nilphamari in 2018 as player of Arambagh, the winger has played 13 times for Bangladesh, with his last coming in a Bangabandhu Gold Cup match against Palestine in 2020.
However, he has been out of the reckoning in Bangladesh's last 23 matches over the last 36 months.
Robiul reportedly got derailed from regular life and became an irregular player in the domestic competitions for his next three clubs -- Bashundhara Kings, Mohammedan and Chittagong Abahani in the last three seasons.
The 23-year-old winger, however, has moved out of the nefarious world and this season he has played Bangladesh Premier League matches for Bangladesh Police, scoring twice in 10 matches. And then he drew the attention of national team coach Javier Cabrera, who gave him some game-time against Seychelles on Saturday.
Robiul is expected to play today's match too.
"We want to win the second match against Seychelles too. If I am given the opportunity to play, I will try to give my best and try to score in the match," Robiul told The Daily Star a few hours before the match in Sylhet.
Replying to a query, Robiul said, "What happened to me is now past and I am looking forward to my football career. It is not possible for me to do a different job to earn bread and butter; so I'm now fully focused on football."