'No choice but to leave it to fate'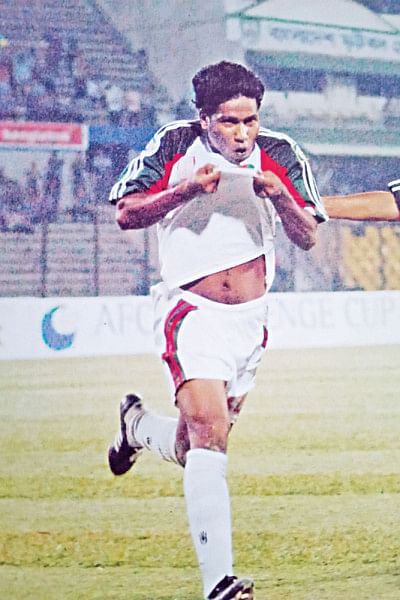 Ahead of the 13th SAFF Championship in the Maldives from October 1, Bangladesh will hope their desire to play the elusive final does not again turn to despair.
Bangladesh were considered favourites at the regional extravaganza till the late 2000s, but that tag has long been forgotten. Instead, Bangladesh now fear another premature elimination following four consecutive exits from the group stages. But memories of the glorious past, especially a maiden triumph in 2003, weigh heavy on minds.
"We had always taken part in the SAFF Championship with the tag of favourites. But these days we have to leave it to luck," striker Alfaz Ahmed, who led Bangladesh to SAFF Championship glory on home soil in 2003, told The Daily Star.
Bangladesh reached three successive SAFF Championship finals, in 1999, 2003 and 2005, with the illustrious Alfaz playing a vital role up front and making key contributions.
"George Kottan built our 2003 squad for two years and all the players were cut from the same cloth. He inspired loyalty and brought out our best. The players even cried out before leaving the dressing room to play the semifinal and final," recalled the former striker, who, along with Rokonuzzman Kanchan and Ariful Kabir Farhad, kept the opposition on their toes in 2003.
That midfield, featuring Arman Mia, Matiur Rahman Munna and Arif Khan Joy, was also stable while a rock-solid defence -- marshalled by Rajani Kanta Barman, Mohammad Sujan, Nazrul Islam, Hasan Al Mamun and Firoz Mahmud Titu -- conceded just two goals in five matches.
"We had a completely mature squad in every department from goalkeeping [Aminul Haque] to the forward line-up. Everything was balanced and Kottan included Arman Mia and influenced the federation to lift a ban on Matiur Munna to balance the side properly," the 50-year-old said.
Kottan could ensure the team was gelling ahead of the tournament in 2003 as they participated in the World Cup Qualifiers and Asian Cup Qualifiers as well as an invitational tournament in Bhutan.
"We also produced good results in an invitational tournament in Bhutan, which boosted our confidence ahead of the SAFF Championship at home," said Alfaz, who struck the only goal of the opening match against Nepal to give Bangladesh a winning start in 2003.
Asked to compare that winning team to the present squad, Alfaz said: "We had good alternatives at every position. Are there any match-winners in the current squad? If not, how can we have faith that they will play the final? There is no choice but to leave it to fate."
Spanish coach Oscar Bruzon has been named head coach of the national team and given just two weeks to prepare and Alfaz, who already left the national team's fate to luck, slammed the Bangladesh Football Federation's timing in parting ways with former head coach Jamie Day.
"To be honest, Jamie Day could not make a solid team despite working for three years. Of course, I admit there is a lack of quality players here. Jamie should have been removed after failing in the Three Nations Cup in Nepal, but the federation did not do that. Since they didn't terminate him after the Three Nations Cup in Nepal, I think the federation could have given him one last chance in the SAFF Championship."