Mutineers silent as Spain enjoy Women's World Cup triumph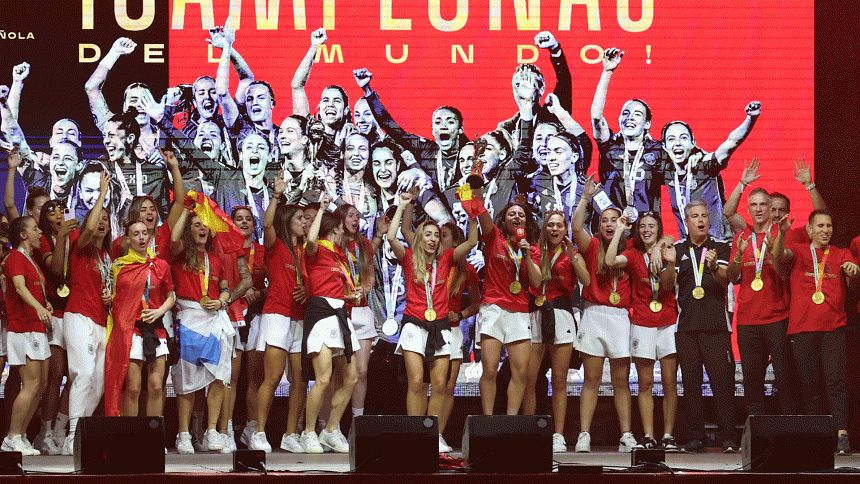 Spain put aside months of turmoil and division to claim their first Women's World Cup title on Sunday, overcoming a player revolt that saw La Roja lose some of their best talent even before the tournament had kicked off.
One of the world's strongest and most exciting teams arrived without some key players but a talented group of youngsters showed the grit and skill required to put all the problems to one side and won Spain's first major trophy.
But as the victors celebrated amid a clamour for interviews from the world's media after their 1-0 win over England in Sydney there was no mention of team mates who remained at home.
Twelve of the 15 players who took part in the mutiny and ended up not making Spain's World Cup squad decided to stay silent, giving no interviews and making no mention of the Women's World Cup on their personal social media accounts.
There were no messages of support, sympathy or appreciation either for the players who last September told the Spanish FA (RFEF) they were quitting the team while long-standing coach Jorge Vilda was in charge, sparking unrest in the changing room.
The 15 e-mails from 15 players sent to RFEF President Luis Rubiales demanded radical changes in the team's structure.
There was never any suggestion of inappropriate behaviour and the campaign was undermined because none of the players came out publicly to explain exactly what their demands were, only denying that they had asked for Vilda to be fired.
The RFEF backed Vilda during the darkest hours of the revolt and he cut the players involved in the dispute out of his squad.
Eight of the 15 backed off months later, asking to be reintegrated, but Vilda found space for only three in his World Cup squad - Ona Battle, Mariona Caldentey and Aitana Bonmati, who was voted the best player of the tournament.
Marquee names like Sandra Panos, Patri Guijarro, Mapi Leon and Claudia Pina, key players in Barcelona's brilliant Champions League title campaign, were among the 12 players left out.
PLAYERS SILENT
Reuters tried to contact the players through their agents, who said they will remain silent.
However, Spanish agent Carlota Planas, who represents world champions Mariona Caldentey, Cata Coll and four of the players who were left behind -- Pina, Guijarro, Lola Gallardo and Leila Aouhabi -- told Reuters the revolt played a major role in Spain's World Cup success.
"Without them and their bravery, surely the RFEF would not have even considered making any improvements at all," Planas said.
"Their demands were about better work conditions and some of those demands were answered, like improvements in the rehabilitation department and better travelling conditions for them and their families."
According to Planas, some players were content with part of the demands being met and made amends with the RFEF, but others believed it was not enough and did not change their position.
"They are at peace with their decision because they believe it was the right thing to do," Planas said of her clients' state of mind after watching Spain's title win from afar.
"Sure everyone wants to be world champions, but they are aware of the importance of their fight."
Marta Diaz from BePlayer Agency, who represents Manchester City's Laia Aleixandri and Manchester United's Lucia Garcia, also reinforced the impact of the mutiny in leading to positive change in the Spanish FA.
"The changes and achievements speak for themselves. The new measures coupled with the talent of the players have made the results we are seeing possible," Diaz told Reuters.
"We have had some of the best players in the world in our team for many years but the RFEF will never recognise that it woke up and started to take a real interest and invest in women's football after the repercussions the case had in the media last year.
"The players are facing a losing battle against a giant.
"There are still many sections of society who are attacking, insulting and mocking the players who have sacrificed everything for something they believed in and who are not willing to keep fanning the flames of such an unbalanced fight."