Morsalin 'here to stay'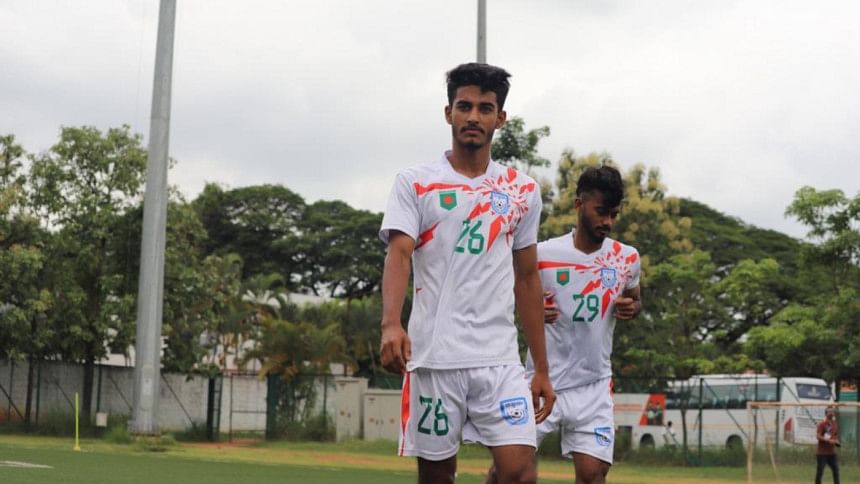 Bangladesh's attacking midfielder Sheikh Morsalin is having the time of his life after getting his maiden international goal in a 3-1 triumph over the Maldives in the ongoing SAFF Championship in India on Monday.
The 17-year-old's goal wrapped up a win for his side and, after achieving his dream of making it to the national team, the teenager said he would establish himself as a mainstay after many drew parallels between his abilities and a long-forgotten prospect, Hemanta Vincent Biswas.
"I have come here to stay. I am not getting lost. If you all pray for me. I will stay here," Morsalin told The Daily Star after the match.
Morsalin came on as a substitute for Javier Cabrera's side and found the net with flair in stoppage time to mark an uplifting victory for Bangladesh after a brave resistance against Lebanon in their opening fixture came to a suicidal end.
The attacking midfielder came off the right flank and faked a shot before cutting the ball back onto his weaker left foot and dispatching a low finish to the near post.
It was a refreshing scene to witness such masterful trickery from a 17-year-old playing in only his third international match. His impressive displays are of more interest since he was not even initially included in Cabrera's 35-member preliminary squad for the SAFF Championship. He only found a place after striker Matin Mia was ruled out with injury.
Morsalin, who made his Bangladesh Premier League debut in June 2022, drew national attention when he netted a long-range strike against his parent club Bashundhara Kings while on loan with Mohammedan.
Since then, he has built a reputation when it comes to taking shots from outside the box, a trait that he said comes to him naturally.
"I have developed this skill since childhood and have kept honing it every day in training. I also tried it today [Sunday] from outside the box, but unfortunately I drove it straight to the goalkeeper," he said after the match.
After an impressive loan spell at Mohammedan in the 2021-22 season which saw him become a starter for the Black and Whites at the age of 16, Morsalin came back to his parent club the following season and made seven appearances for the league champions.
He netted his first goal for Kings in a 6-4 win over Sheikh Russel, following it up with two assists in the next match against Mohammedan to cap off an impressive season. He believed that the impressive displays in those two contests helped catapult him into the limelight and get his national call-up.
"I think I was picked after my performances in the last two-three matches, which I think was the plus point for me because I performed really well in those matches," Morsalin said. "I think I could not fully satisfy my coach [Oscar Bruzon] during the place-deciding Federation Cup match against Sheikh Russel, but the coach gave me another chance in the league against the same opponents and I availed the opportunity," Morsalin revealed to The Daily Star earlier this month.