Messi's Miami target treble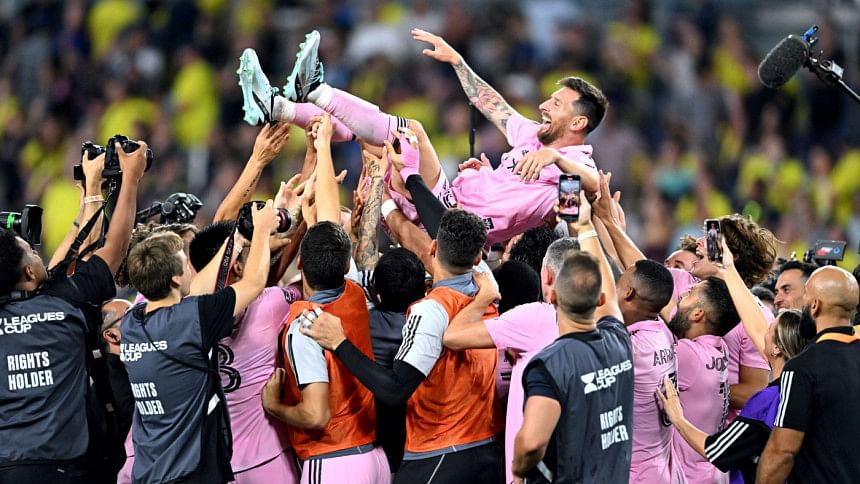 Lionel Messi and Inter Miami have their first silverware, barely a month after the Argentine's move to the Florida club, and are now turning their aim on a unique treble.
Messi scored one of his trademark wonder goals, to put Miami 1-0 up in the Leagues Cup final at Nashville on Saturday but the Tennessee side fought back for a 1-1 draw, forcing penalties where Miami emerged victors for their first title in their three year history.
"Very happy to get the first title in this club's history. Everyone's hard work and commitment made it possible. Hopefully this is just the beginning," Messi posted on Instagram.
The Argentine World Cup winner has scored 10 goals in his seven games so far, finding the net in each match, and he left club owner Jorge Mas beaming in delight as his audacious move to bring in the game's top player delivered its first title.
"To see Lionel with that smile, all the guys how they are playing. This will be the first of many trophies for this team," he told reporters.
David Beckham, who created the club before bringing in Mas as the key investor, reflected on the years he spent trying to make the team a reality but even he appeared taken back by how quickly the team has gone from strugglers in MLS to a team being watched around the world.
"A lot can happen in five weeks, a lot has changed for us," he said.
"We will enjoy this but now we have to look to the future and continue to build because we have some of the best players in the world out their on the field wearing pink but also, more importantly we had a bunch of academy players out there with them and that is important for us as a club and indeed for the country," he added.
The jubilant players interrupted the press conference of victorious coach Gerardo Martino, spraying him with champagne, but they will have to sober up quickly because their next challenge comes in Ohio on Wednesday when they face FC Cincinnati in the semi-final of the US Open Cup.
Then Miami return to the main business of the Major League Soccer regular season, where the team will be looking to climb from bottom of the Eastern Conference into the playoff places to give themselves a chance of another trophy – with 12 games to go they have little room for error.
As the players chanted in the locker-room at the end of an entertaining, unbeaten seven games in Leagues Cup, Martino's thoughts were turning to the next test.
"There's not a long time to celebrate. On Wednesday we have another game and we will continue playing and competing like this in the different tournaments," said Martino.
"This one is in the past. And now we are thinking about the match against Cincinnati."
Former Barcelona and Argentine coach Martino said the intense format of the month-long tournament had helped Miami gel together as a team after the arrival of Messi and Spanish pair Sergio Busquets and Jordi Alba.
Growing and dreaming 
"I remember the first days and I felt we needed to do more training sessions to give shape to the team and I was thinking, how convenient it is to have this tournament, because we can take advantage of this month to play more," he said.
"And after this month, we are champions, so it feels great, and it helps us continue growing, keep dreaming. I think we clearly understand now what we can do looking forward. We better understand the future, and it's more clear," he said.
The Leagues Cup just concluded its first year as a competition bringing all top flight teams from Mexico and Major League Soccer together for a mid-season, World Cup-style tournament.
MLS Commissioner Don Garber said that the tournament had been a huge success with Messi's impact lifting it to unimagined heights.
Garber said the Argentine's arrival "accelerated the popularity and interest in the tournament. Our television ratings have been spectacular. Our Apple TV ratings have been, for us, dramatically more than we expected," he said.
Messi's presence and Miami's run to the title had been "the talk of the football world," said Garber.
DeAndre Yedlin, Miami's captain before handing over to Messi on his arrival, said the team had undergone a total change.
"We walk in to places now, we expect to win. I can't say that was a factor every time we played before," he said.
"It is our seventh game together as a group. It is strange, we are still kind of learning on the go," he said before he too focused on the next step.
"Now we have a semi-final. It's an opportunity for another trophy."