Liverpool's Klopp stays grounded ahead of trip to Bournemouth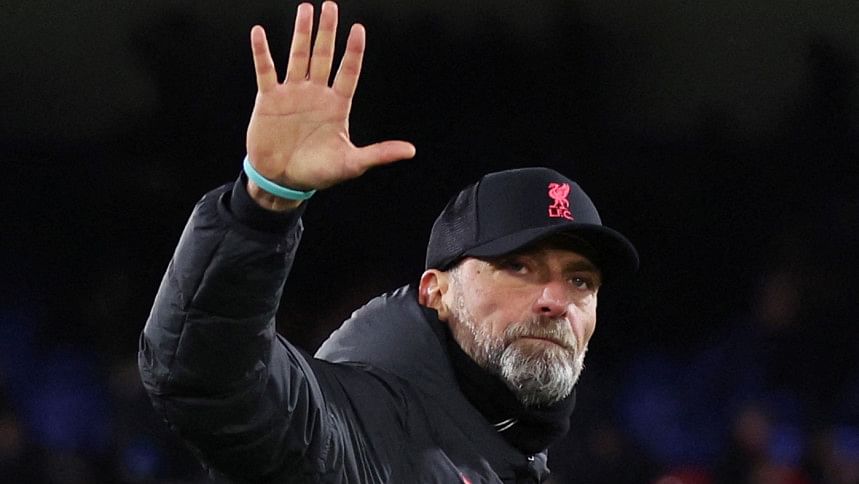 Liverpool have regained some consistency in the Premier League in recent games but the squad cannot take that confidence for granted in their quest for a top-four spot, manager Juergen Klopp said on Friday.
Liverpool reignited their top-four hopes with a 7-0 thrashing of old rivals Manchester United last week, moving up to fifth place to sit three points behind Tottenham Hotspur above them.
The Merseyside club also have a game in hand and they next play away on Saturday at bottom side Bournemouth -- who were thrashed 9-0 at Anfield earlier this season.
"There's no better mood booster than a good game for us, you see it in training. We had consistency in the league in the last five games, but confidence is a fragile little flower and we have to make sure we keep that," Klopp told reporters.
"There's a general feeling that we have to chase and we have to challenge everybody, but that's only a little side story. The main thing is going to Bournemouth and playing a game there and not counting the points before you have them."
Klopp said the south-coast club can cause teams problems with the way they play after nearly coming away from league leaders Arsenal with a point in a 3-2 defeat.
"The way Bournemouth play, they can be really uncomfortable for each team," he said. "Everybody saw against Arsenal in the last game, how much they had to fight and stretch their luck."
While Liverpool can provisionally move up to fourth on goal difference if they win, a victory for Bournemouth would lift their hopes of survival with the bottom nine teams separated by just six points.
"We might fight for the Champions League spots - we will see how the results will be in the next few weeks - but the fight to stay in the league is as exciting. Bournemouth will fight like crazy," Klopp added.
"We want to go into the top four clear, but it's about being fully focused on Bournemouth."
Klopp said Luis Diaz, Thiago Alcantara and Joe Gomez will not be available for the trip as they continue to recover from injuries, with the German expecting to have them back after the international break this month.
"None of them have trained yet with the team. In the next couple of weeks we will know more," he said.