Iniesta 'opens new page' with Emirates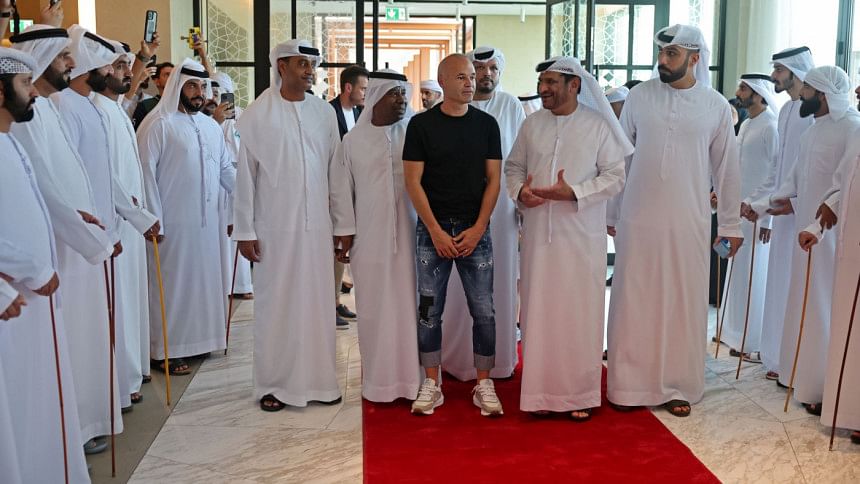 Spanish football legend Andres Iniesta on Wednesday became the latest marquee name to commit his career finale to the Gulf by signing for Emirates FC despite having already turned 39.
Iniesta announced in May that he was leaving Vissel Kobe in Japan earlier than expected after spending large parts of the J-League season on the bench.
"This is another very important step in my career after the long years spent in Barcelona and then in Japan," World Cup and European Championship winner Iniesta said at an official ceremony in Ras Al Khaimah.
"I am here to open a new page and I will do everything possible to achieve the best results with my team.
"I have always done my best with Barcelona and Vissel Kobe, and I will do the same here."
Iniesta joined Vissel Kobe in 2018 after 16 years at Barcelona where he won the Champions League four times and La Liga on nine occasions.
He also played in Spain's 2010 World Cup triumph and the 2008 and 2012 European Championship victories.
With Vissel Kobe, Iniesta won the Emperor's Cup in 2019, the Japanese Super Cup in 2020 and led his team to the semi-finals of the Asian Champions League.
Emirates FC have had their ups and downs in recent years, winning the Emirates Cup and Super Cup in 2020, while being relegated in the same season to the Second Division.
Iniesta, who will wear the number eight shirt at his new club, "will stay with us for years to come", said Emirates FC chairman Youssef Al Batran.
Iniesta is the latest star to join the exodus to the energy-rich Gulf where Saudi Arabia has been setting the pace with the signings of Cristiano Ronaldo, Karim Benzema, Jordan Henderson, Sadio Mane, N'Golo Kante and Riyad Mahrez.