Imperious Kings clinch unprecedented four-peat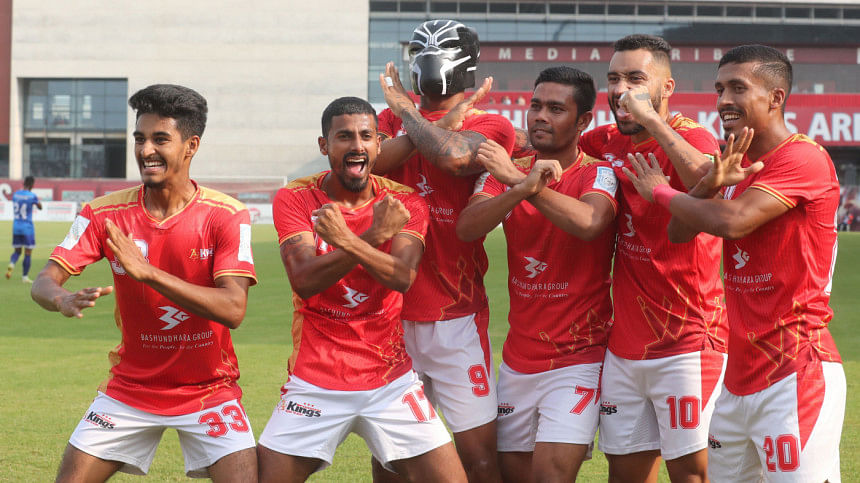 Bashundhara Kings made history by lifting the Bangladesh Premier League title for the fourth successive time after Brazilian forward Dorielton Gomes' poker helped them register a thrilling 6-4 win over Sheikh Russel at the Bashundhara Kings Arena yesterday.
Kings ensured a fourth straight title with three matches in hand, taking an unassailable lead. They have 46 points from 17 matches, 12 more than nearest rivals Abahani, who yesterday played out a 1-1 draw against archrivals Mohammedan to raise their tally to 34 points from 17 matches.
No team prior to Bashundhara Kings, before or after independence, had won four league titles in a row in domestic top-flight football. The country's two traditional powerhouses, Abahani and Mohammedan, have only managed three in a row, with the Sky Blues completing that feat twice.
Since entering the professional football league in the 2017-18 season, Bashundhara Kings have become a formidable side as they consistently form strong teams, including many national players as well as high-quality foreign recruits.
This season, Kings have suffered only two defeats in 28 matches.
Dorielton opened the scoring in the sixth minute but Sujan Bishwas and Dipak Roy each struck once to hand the initiative back to Sheikh Russel before Brazilian Robson Da Silva and Sheikh Morsalin restored Kings' lead with two goals in the dying embers of the first half. Former Abahani forward Dorielton then took over the show in the second half, in which he scored three goals.
After securing their four straight title, Bashundhara Kinsgs' players and head coach were ecstatic and celebrated with the few hundred in the stands.
"Lifting the league title four times in a row is a great achievement. I will be a part of this achievement even after quitting football. I really feel good to be part of this achievement," midfielder Sohel Rana, who won the league title with Kings in two successive seasons after joining from Abahani, told reporters.
Goalkeeper Anisur Rahman Zico said: "I have been with Kings for four successive seasons and won the league title four times in a row. I feel really proud to be part of all four titles. This season has been a long one, I suffered injuries and recovered again and played matches."
Spanish coach Oscar Bruzon said: "Winning the league title is not an easy task. There is a lot of hard work behind this success. It is common for me personally but I am really happy to have helped Kings win four titles in a row."
Meanwhile, in another league match, Chittagong Abahani beat Azampur FC 1-0 to jump to eighth position with 16 points from 16 matches. Azampur FC are bottom with four points from 17 matches.