Ibrahim isolating, others back on the pitch
Booters to leave for Qatar on May 30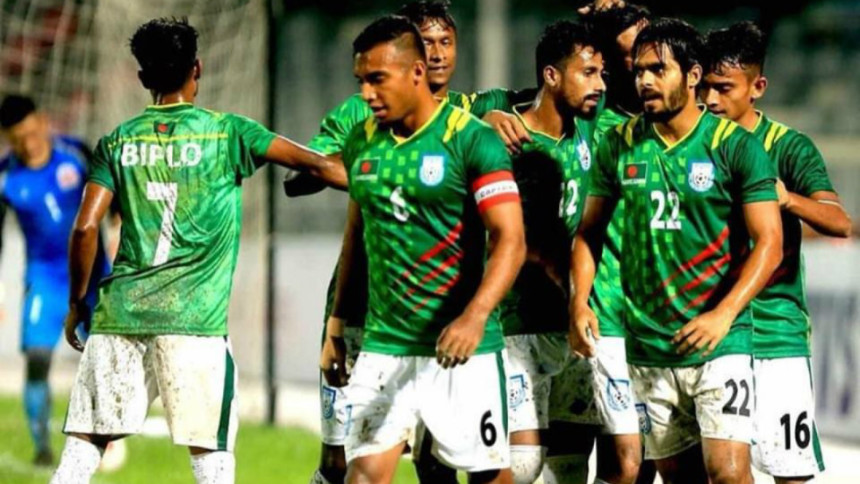 The Bangladesh national football team had begun their training camp to prepare for the qualifying matches of the 2023 Qatar World Cup but two days into the training camp, winger Mohammad Ibrahim's Covid-19 test came out positive, leading to questions over whether the rest of the squad's preparation for the upcoming matches will be jeopardized.
Footballer Mohammad Abdullah today informed in a press conference that they were keeping themselves safe.
"During the Covid-19 situation, a teammate does not go to another teammate's room. If someone is tested positive, they have to quarantine along with their roommate. We're very cautious and those who are positive gets their food and other necessary commodities in their room. The Covid situation is not new and we know how to keep safe or maintain protocols," Abdullah said today.
Sohel Rana, who was Ibrahim's roommate, was also tested again and returned negative, manager Iqbal Hossain informed. Ibrahim was the only one from a squad of 32 members to have tested positive and has been isolating at a hotel room since yesterday. Ibrahim's test report showed positive yesterday evening and the second test have also returned positive.
The national team had trained for two whole days before the coronavirus results came in.
"The players were in between games. Bashundhara were supposed to play in Maldives and the players had been undergoing tests. We underwent test on the first day since arriving here [at the camp]. Maybe the report came in a bit late and evaluating and organizing the results took time," Iqbal informed the media after the national team's training session today.
Bangladesh will leave for Qatar on May 30 and will play the final three matches of the group in Doha against Afghanistan (June 3), India (June 7) and Oman (June 15). Iqbal informed that the team will be tested again after a week.