'I want to give him life, I want to die for him'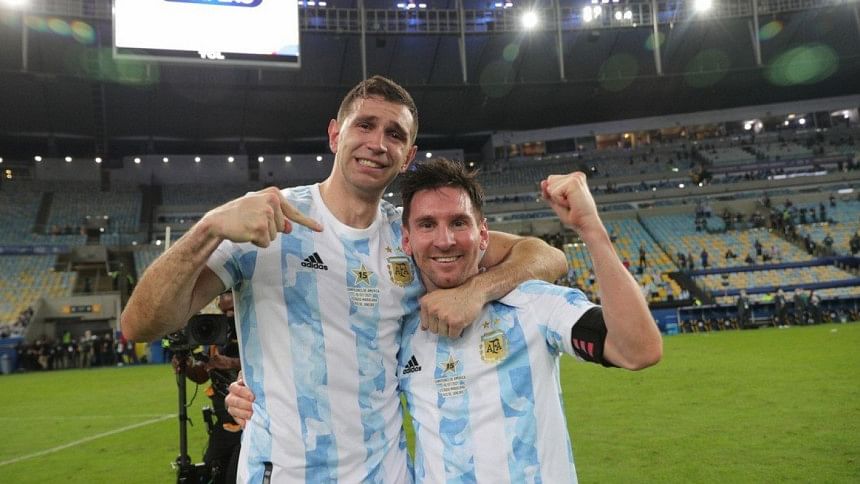 Argentine Copa America and golden glove winning goalkeeper Emiliano Martinez spoke at length about what winning the continental title with Lionel Messi meant to him during an interview with Argentine media Ole.
The Argentine shot-stopper described the sheer positive influence Messi has on his game: "You say 'he made the players excited', me too and I'm a goalkeeper. I wish I had played every match in a league with him. I would be a much better goalkeeper."
Martinez then gave a huge statement on the six-time Ballon d'Or winner, expressing what Messi means to him, "I want to give him life, I want to die for him."
Martinez talked about an almost supernatural impact that Messi has had on him personally. He compared his time with Messi to being an iconic anime character from the series Dragon Ball Z.
"I got much better [with Aston Villa] but with the national team, I got better by 10% or 15%. You know when you watch Dragon Ball Z as a kid? I'm Vegeta and when I played with Messi, I turned into Super Saiyan," he said.
Martinez commented on the faith Messi instilled in him during the penalty shoot-out victory against Colombia:
"Leo gave me a hug and told me, 'You'll stop one'. You have a crack that saves you in every match, that does everything for the Argentina national team. The least I could do was to try and help him to get to the final. It's what I set out to do."
The former Arsenal man went on to save three penalties in a row, as well as keep four clean sheets in the entirety of the tournament.