'I just thank God when I get a goal'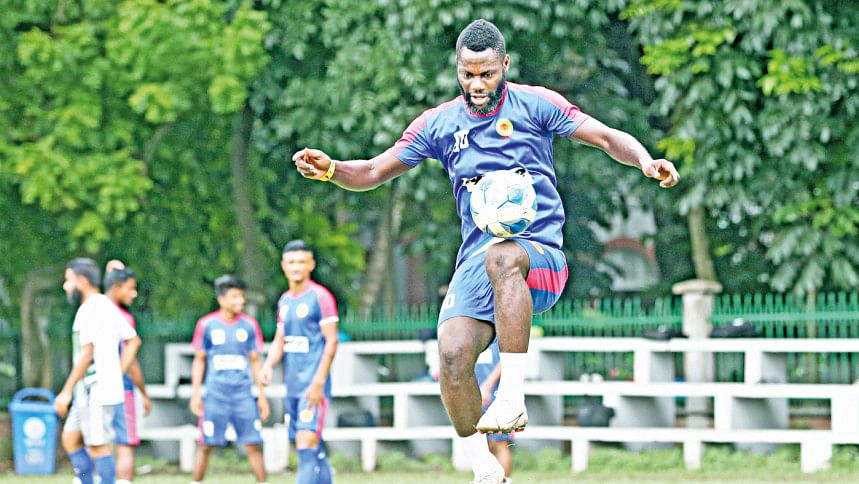 Before coming to Bangladesh after signing for Chittagong Abahani, Nigerian forward Peter Thankgod Ebimobowei had played in Nigeria, Egypt, Cyprus, Qatar and Oman, learning his trade as a striker. In the Bangladesh Premier League, the 28-year-old has been prolific, accounting for nearly 60 per cent of port city outfit's 28 goals. The tall marksman's 16 goals from15 matches see him top the goal-getter's list. The Nigerian revealed how he honed his goal-scoring abilities, his impression of Bangladesh and football in the nation and many other topics in an interview with The Daily Star's Anisur Rahman.
The Daily Star (DS): What was your first impression of Bangladesh?
Peter Thankgod (PT): My first impression was not bad. I learned a lot after coming here. I see some differences. The road management is different, but people here are good and friendly and have different lifestyles. What I have seen here is good.
DS: You scored one goal apiece in the Independence Cup and Federation Cup, before hitting your stride in the league. What is the secret behind your goal-scoring prowess?
PT: When I came here and played in the Independence Cup and Federation Cup, I tried to adapt to the system. In the league, I read how they play and rest. But there is no particular secret. As a striker, when the opportunity comes, you have to put the ball into the back of the net. I have just been putting the ball in the back of the net. That's what I am doing as a striker. There is no secret.
DS: It can be tough to score in any football match, but you do it easily almost every time. Did you go through any special training to hone your goal-scoring abilities?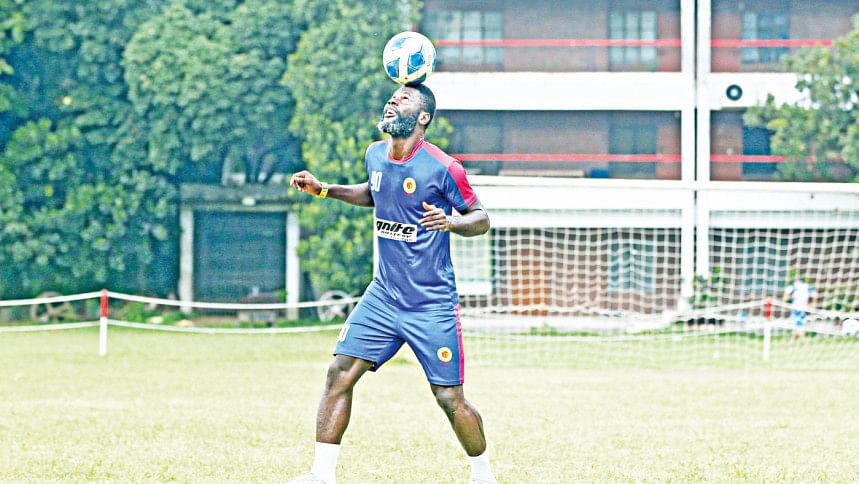 PT: Yes, people say it is most difficult to put the ball into the back of the net. It is very, very difficult. My name is Thankgod, so I just give thanks to God when I get a goal. Sometimes I miss, but in a game the opportunity will come. If you are in the right position, you will be able to put the ball in the back of the net. When I started playing football in Nigeria, I became top scorer. Then I was signed by Al Ahly of Egypt, the biggest club in Africa. Later in Nigeria, one coach gave me extra training. He told me I needed extra training because I needed to develop my hold-up play in the box. He also trained me to meet crosses with my head and legs so that made me concentrate more on the box to score goals.
DS: You are now the BPL's top scorer with 16 goals. How confident are you that you will stay on top at the end of the league?
PT: There may be two other players in the race but I don't want to see others. I just want to play in the rest of matches and I believe I will be the top scorer at the end of the league.
DS: With only seven league matches left, how many more goals do you want to score?
PT: Only Allah give goals. I can't speak about what I don't know and what I can't see. But as a striker, I just want to keep doing my best. And hopefully goals will come.
DS: You have been scoring regularly but Chittagong Abahani are fifth in the table. Do you have any regrets?
PT: I don't feel any regret. I have been doing what a player does on the field and I feel proud to be a player of Chittagong Abahani.
DS: How would you assess the Bangladesh Premier League?
PT: I played in the Egyptian Premier League, which is a more competitive and tough. It is the same in Cyprus. Then I went to Oman and Qatar, where the games are more intense. Whenever you get the ball, someone is close to you. Those aspects are different, but the league in Bangladesh is good. The people play good football but the intensity is not like that. However, the games are competitive. A match you might think is easier turns out to be tougher, so football is really competitive here.
DS: Are the club facilities in Bangladesh standard for a professional football league?
PT: The league is good but you need some good pitches. You need more funds to share with every team. The beauty of football is when you see people coming and shouting in the field.
DS: How do you rate Bangladeshi footballers?
PT: I played against some good players. There are some good players in Dhaka Abahani and a few other clubs. I think the national coach knows the best of all. I can't speak about all the players, but I saw some good players here.