Gulf in quality highlights lack of proper process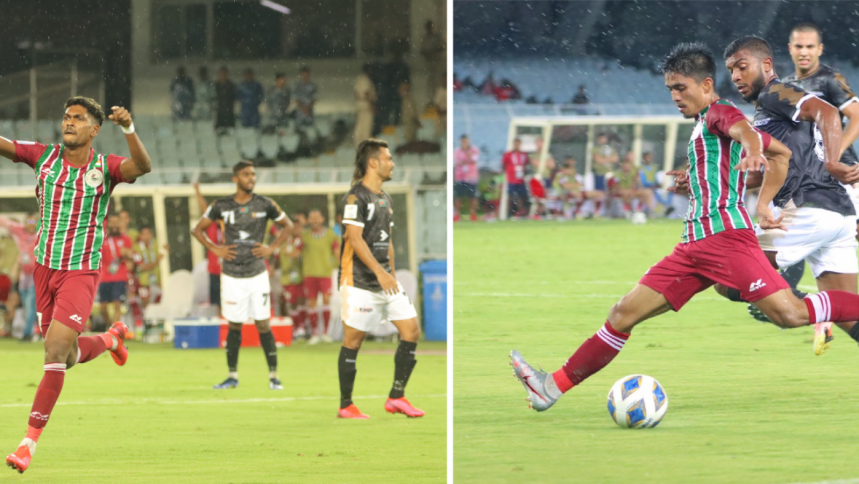 Bangladesh Premier League champions Bashundhara Kings' 4-0 capitulation against Indian Super League outfit ATK Mohun Bagan in the AFC Cup -- which came just a month after Abahani lost 3-1 to the same side -- may have shocked spectators, but both matches highlighted the gulf in quality between players of Bangladesh and India at the international level.
Abahani, who emerged as group champions in the AFC Cup in 2019, were hoping to make it into the group stages again this time around with a better squad and better results in the domestic circuit, but their dreams were shattered by Mohun Bagan in the play-offs. Bashundhara Kings, who were hoping to make it out of the group stage in just their second attempt after a win in their opening group game, then saw their ambitions left in tatters on Saturday. 
"While we still depend on players that develop naturally, India, Maldives and Nepal have adapted. They now produce quality players through academies and that is the difference."
While Bashundhara Kings went unbeaten against Indian outfits in the last edition of the AFC Cup and Abahani recorded two wins over Indian outfits in the 2019 edition to provide the impression that Bangladesh football was improving, those proved to be exceptions.
Bangladeshi teams usually lose to their Indian counterparts whether it be at the club or national level and the two massive defeats in the span of little over a month showed that Bangladeshi players are still well behind their Indian counterparts, who actually made the differences in both matches.
Former national striker turned coach Alfaz Ahmed believes that, similar to his playing days, Indian athletes were still ahead in every aspect.
"We are behind Indian players in every aspect. They are better in terms of physique, skill, speed and positional awareness. They are really brave and eager to do something with the ball while our players distribute the ball after getting it. But you must do something creative up front if you want to win the match," Alfaz Ahmed told The Daily Star after watching Saturday's match between Kings and Mohun Bagan.
"When we played, Indian players were also ahead of us in some aspects. But they have developed far more than us because they play football around the year with a good number of foreign players. They also come through a well-organised process," opined the former national striker.
"The difference for me was that the Kings' players looked tired, didn't run enough and were unable to control the tempo which were big factors," Alfaz said.
Bangladesh's lone UEFA A-licenced coach Maruful Haque believes local players usually make the difference at the international stage even when it comes to club tournaments.
"Local players of either side were the main difference. Just check the background of the Indians that play for Mohun Bagan. They came from different academies and ISL outfits. Indian players emerge through a process. Their movement and ball distribution is totally different on the pitch compared to ours," Haque said.
Asked how the Bangladeshi footballers fought equally decades ago before the downturn, Maruful replied: "In the 1980s and 1990s, clubs from India, Maldives and Bangladesh depended on their respective national players. At that time, everyone was equal because there were neither academies nor grassroots projects. Training was similar around the whole sub-continent. While we still depend on players that develop naturally, India, Maldives and Nepal have adapted. They now produce quality players through academies and that is the difference."
Aside from the difference in quality among players, others opined that tactical errors from the coaches played a part as both Abahani and Kings adopted a high-line in defence, allowing the faster strikers on the opposing side to get in behind.