Galtier holds talks with Neymar after Brazilian star's McDonald's visit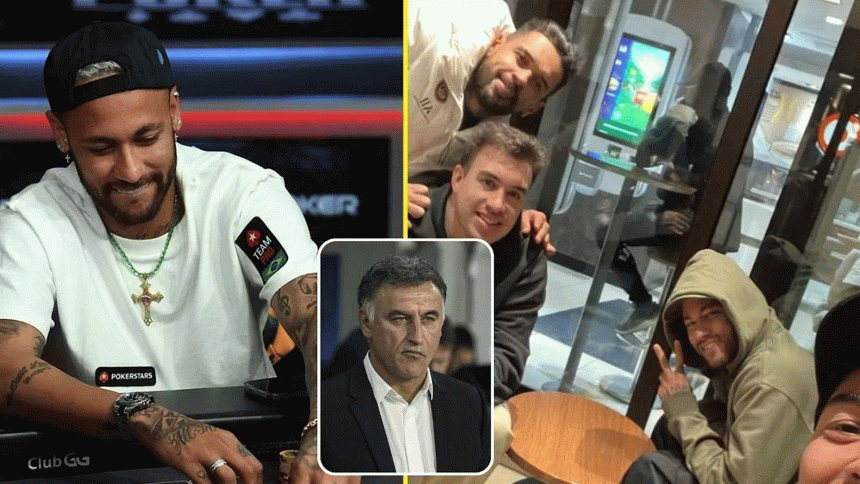 Christophe Galtier has held talks with Neymar after a photograph emerged of the Paris Saint-Germain forward in a fast-food outlet – the day after Kylian Mbappe implored team-mates to eat healthily.
PSG head coach Galtier noted Neymar played in a poker tournament on Wednesday and visited a McDonald's branch with friends.
It came at a point when PSG's season has reached crisis point, with three damaging defeats in succession putting Galtier under pressure.
There was criticism of Neymar on social media when a picture of his trip out emerged. It appeared a day after a 1-0 home defeat to Bayern Munich in the first leg of their Champions League last-16 tie, a result that followed a Coupe de France loss to Marseille and a Ligue 1 setback at Monaco.
Notably, it followed Mbappe telling team-mates "everyone has to eat well and sleep well" to be in prime shape for the March 8 second leg in Munich.
Galtier explained how Mbappe's message in a television interview was the same instruction he had delivered in the Parc des Princes dressing room.
"He spoke with real maturity and determination so that everybody stayed focused, and I am pleased that he said that," Galtier said.
"I am not going to make connections between Kylian's words in the dressing room with a photo of Neymar in a fast-food restaurant.
"I have spoken to Ney. I told him what I thought. Neymar has the right on his day off, his recovery day. He likes playing poker, and he has the right to play poker. I told him what I thought about the photo, and that will stay between him and me.
"But I don't think there is any need to make a connection between what Kylian Mbappe said and the photo."
Mbappe was only a substitute against Bayern as he returned from an injury lay-off. He came off the bench and twice had the ball in the net, but offside judgements denied the hosts an equaliser.
PSG play Lille in Ligue 1 on Sunday, and Galtier indicated Mbappe will be in the starting line-up.
"We need to win this weekend," Galtier said. "We have a better chance of winning if Kylian Mbappe is playing than without him, so he will play."