Four bullets couldn't stop Jamal's dream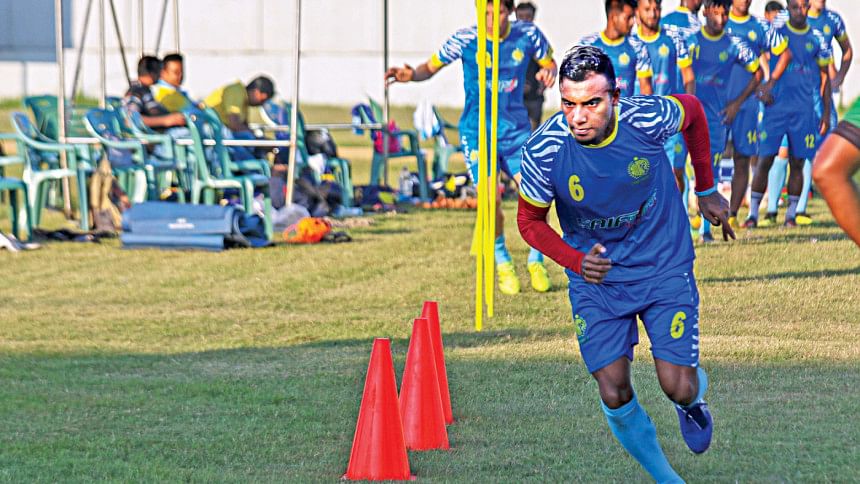 Seven years ago when Jamal Bhuiyan made the journey from Copenhagen to Dhaka to try for the team of his country of origin, he was in the middle of nowhere. A youth product of Brondby and later of FC Copenhagen, Jamal had shown early signs of greatness while playing alongside the likes of Nicklas Bendtner and Thomas Delaney. But after being shot four times in 2007, Jamal's life turned upside down and his footballing dreams were crushed. It took him a long time to get over that incident, and he came to Dhaka four years later to try to get his career rolling again after a bit of compromise with his ambitions. But that attempt ended in failure and he went back with a heavy heart. However, he returned again two years later with more resolve and this time he was chosen. A career which had six years previously looked perilously close to being derailed, finally found a platform to grow again. Since then Jamal has only grown in skill, stature and mental strength, all the while adapting to the hitherto-alien culture in Bangladesh. Now, he believes his journey was worth it as he feels quite at home, enjoying the celebrity status which very few footballers enjoy in Bangladesh. In a freewheeling interview with members of the media, including The Daily Star's Atique Anam, at a hotel in Chattogram yesterday, the Bangladesh captain shared stories of his life in Denmark and in Bangladesh, his footballing journey from Brondby to Dhaka, what it means to lead and that fateful incident. Here are some of the excerpts from that interview:
The Daily Star (TDS): Some people in India before and after the match against India said you were not a proper Bangladeshi as you cannot speak Bangla properly. Does that hurt you?
Jamal Bhuiyan (JB): I have Bengali parents. Then what about Mesut Ozil, Sami Khedira, Thiago [Alcantara] and many others? My parents always speak Bangla at home. And I have improved in Bangla since coming here. I don't have any issues with communication now, despite my broken Bangla.
TDS: When did your parents move to Denmark? Tell us a bit about your family.
JB: My grandfather, Khushi Bhuiyan, came to Denmark in 1963. My father came in 1967 and my mother came in 1971. My father used to have a fabric manufacturing company. Then he bought a supermarket which he ran for three decades. I was born and raised in Copenhagen. I have two elder brothers who live in Denmark.
TDS: You scored a goal against FC Copenhagen for the Brondby youth team. That must have been a good memory.
JB: Yes, that was special because FC Copenhagen are the best team in Denmark and I always wanted to play for them. I scored and two days later I was signed by FC Copenhagen. I was 14 at the time.
TDS: Did you always play as a defensive midfielder? What is the reason you chose to play in that particular position?
JB: I don't know, I just like it to be in the middle. You get the ball a lot. I feel more comfortable in the middle.
TDS: Tell us about the incident when you got shot in Copenhagen.
JB: It was 2007 and I was 16 or 17. I was on my way home from school. The area that I grew up in was not a good area, but I felt safe because I grew up there. That day, a guy told me to go home early but I did not realise the danger. After a few minutes, I was shot four times. I had one shot on the elbow, one in the lower abdomen and two by the side of my body. I was in a coma for two days. I stayed at the hospital for three or four months. I started playing again 14 months later.
TDS: Did you think at the time that you would play again?
JB: No, I thought I would give up playing football. The level of football in Denmark is very high among young people. So I thought I should get a good education since I would not be able to play football. But I had a talk with my youth coach, Johnny Larsson, and he told me to try again. I started to play again. I started training seven months after the incident. I lost 14 kilos during that period. I could not eat anything at the hospital. I was given food through my neck.
TDS: Does that memory still haunt you?
JB: It will always be a sad memory for me. But Allah has a plan for everything. Maybe it was bad luck.
TDS: Was it scary or sad?
JB: Sad. I of course had nightmares many times after that. But it was sad because I thought: 'what if I wasn't there, what if I didn't go there that day'. It impacted my football a lot. At the time I was one of the best at FC Copenhagen. The club wanted me to go to the senior team. Other clubs also asked about me. I cried a lot at first, but I had to accept it.
TDS: How difficult was it when you came to Bangladesh for a trial for the first time and left without being selected?
JB: When I came to Bangladesh in 2011, I didn't know anybody. So I was maybe a little naive. I returned to Denmark and when I came back again, I only thought about myself and my game. After that the journey just began.
TDS: What were your parents' response when you came to play for Bangladesh?
JB: My father said that you should go there and make a big name for yourself and when you end your football career, you will look back and be satisfied with what you have done for Bangladesh.
TDS: What improvements have you noticed in your game since your debut for Bangladesh in 2013?
JB: I'm making better decisions now than I used to. Now I'm better at set pieces, better at playing the ball, reading the game and in terms of my overall vision of the game. After every practice, I train by myself for 10-15 minutes. My diet has also changed, I don't eat sweets and don't drink coke.
TDS: What has been the impact of getting captaincy of the national team in 2018?
JB: The impact is that now I'm more worried about the decisions I have to make. When I'm on the pitch, I know I have to talk and guide the players. Also outside the pitch, I have to tell people things like if they are not on time, then I'll have to fine them. I'm now more aware that if the team fails, I'm going to be on the front line.
TDS: How are you enjoying being in the spotlight?
JB: I don't know really because I don't watch TV or read Bangladeshi news. I don't really know how to respond to it but I'm just happy that people are happy with my performances.
TDS: Don't you think your performances also improved a lot after you became captain?
JB: Yes, but the team also changed. So many new and young players joined since then. Jamie [Day] also changed things a lot and he has been very important for us. He is not like the other coaches who were a little afraid to tell the organisation (Bangladesh Football Federation) what they really wanted.
TDS: What are the other changes Day has made?
JB: He added discipline, diet, fitness, regular check-ups and the way we play is also totally different. He knows what the players' strength and weaknesses are.
TDS: You also played many matches under Lodewijk de Kruif, who had a possession-based football philosophy while Jamie bases his philosophy on defensive organisation and counter attacks? As a defensive midfielder, do you enjoy this style rather than the one where you had more of the ball?
JB: It's true I used to get more of the ball under de Kruif, but Jamie is getting us results with effective football. And results are what matter in football.
TDS: What are the areas in which Bangladesh's game has improved over the past 14 months under the new coach?
JB: We don't concede much anymore. We know how to defend better than before and that is also due to Jamie because he trained us a lot on how we should defend and how we should attack. We didn't do that before.
TDS: How proud were you after the performance against India in their own backyard?
JB: I was very angry because it was like losing the game for me because we had chances to score. But I felt very proud of the team as well.
TDS: Have you received any offers from Indian clubs?
JB: People [two clubs from the Indian Super League including Minerva Punjab] had asked me about my status and my club's situation and whether I was under contract. There was one guy who told to me that Sunil Chhetri played so badly and was taken out of the game because of me. I thanked him for the compliment.
TDS: What do you think about rest of the fixtures of the World Cup qualifiers, especially against Oman and away from home against Qatar?
JB: I think Qatar and Oman are the two strongest teams, close to each other. The next match will be tough for us but we still have home matches against Afghanistan and India. So I think we can get some points.
TDS: How was the experience of doing commentary on Spanish football?
JB: It was good. I'm going to Barcelona next month for the same media. They have sent me tickets.
TDS: Your parents must be very proud of you now.
JB: I hope they are. They don't say much, and we don't speak much about football at home.
TDS: Do you go to Denmark often?
JB: I go back to be with my family whenever I have a vacation because I live here alone.