'Feels like 1968 after Enayetur's return'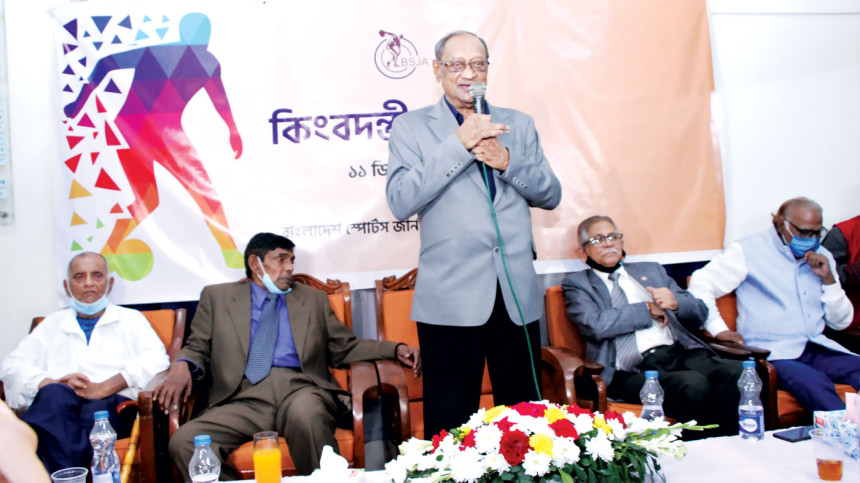 After exiting his vehicle, legendary footballer Enayetur Rahman Khan took a few steps towards another versatile athlete, Pratap Shankar Hazra, hugging him in a soundless embrace for a couple of minutes until Pratap broke the silence by asking: "Have you forgotten how to speak?"
Enayetur, who returned home three weeks ago after spending 27 years in Canada, perhaps did lose his voice in the haze of emotions brought on by seeing his Swadhin Bangladesh teammate. His eyes momentarily welled with tears, which were quickly replaced by a big smile after he released Pratap.
Pratap and Enayetur's presence at a Bangladesh Sports Journalists Association (BSJA)-organised programme, titled "With Legends", made plenty of footballers emotional as they revisited the golden days of Bangladesh football in the 1980s and 1990s.
The BSJA took the opportunity to arrange a homely get-together featuring members of the Swadhin Bangla football team such as Jakaria Pintu, Sheikh Ashraf Ali, Pratap and Enayetur alongside former football star Golam Sarwar Tipu, Hasanuzzaman Bablu, Sheikh Mohammad Aslam, Ashraf Hossain Chunnu, Wasim Iqbal, Khurshid Alam Babul, Abdul Gaffar Chowdhury and Imitaz Sultana Jonny. Conducting the programme was journalist Dilu Khandokar while organisers and prominent sports journalists who covered those footballers' exploits, lined the seats.
Bangladesh's best footballers were generous in praise of their predecessors, especially for the inspiration they provided.
"Today I am talking to a footballer who was ahead of the others in every aspect. To be honest, I would stop playing and admire his performances," Pratap said. "But his 'problem' was speaking out against injustice."
Golam Sarwar Tipu added: "Today footballers may have good running and passing ability, but they are brainless. Enayetur was a brave footballer with a brain. A footballer's retirement is akin to death, but that was something we learned after he left the country. But today, it feels like it's 1968 after Enayetur's return."
Hazanuzzaman said: "I had good relations with Enayetur bhai because he always trained with Brothers Union but played for BJMC. He has not been in the country for 27 years but our relationship is intact even today."
"Enayetur Rahman is one of the best footballers produced in Bangladesh. He was a brilliant ball player who could shoot powerfully with either leg. He was a different ilk of forward and I feel really good to see him again," veteran journalist Kamruzzaman said.
Enayetur himself remained modest, rating himself behind others before praising Chunnu, Sheikh Mohammad Aslam, Khurshid Babul, Wasim Iqbal, Abdul Gaffar, Rakibul Islam and others.
"Pintu bhai, Pratap Da and Shantu bhai were the big stars of Bangladesh football. Compared to them, I was really nothing. Those footballers were my idols and I tried to absorb their technique and skill," Enayetur said. "Aslam was a striker who struck many winning goals. Khurshid was a laborious winger and better than European players. Chunnu and Wasim were such brilliant and intelligent players."
"Our country produced a lot of illustrious players but most of them left the country after getting no respect and zero evaluation. Ask me whether a father will inspire his son to be a footballer. Never. You have to evaluate all former footballers socially, then I believe football will regain its prestige," ended Enayetur.