Emi Martinez announces Bangladesh, India tour itinerary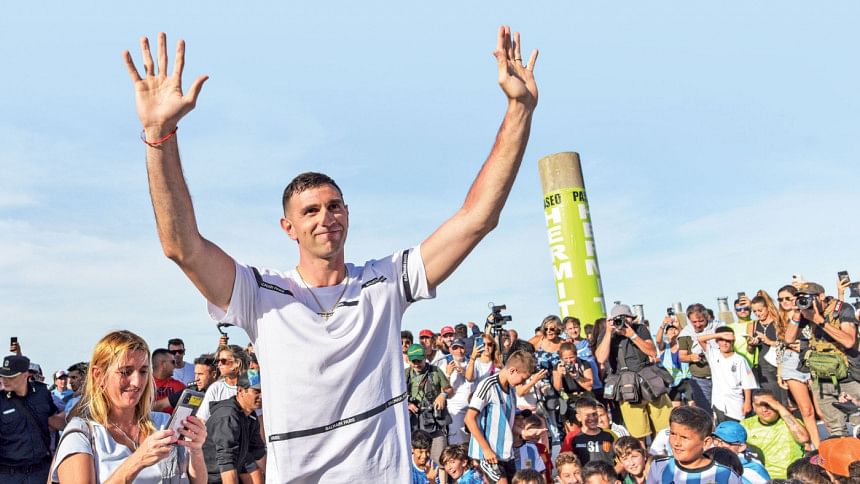 Argentina goalkeeper Emiliano Martinez confirmed his tour itinerary for Bangladesh and India through a Facebook post on Monday night. The Aston Villa goalkeeper, who made some crucial saves as Argentina won their third World Cup in Qatar in December, 2022, posted this message on his social media account.
"I am delighted to announce that my tour of the Indian subcontinent will commence on the 3rd of July, 2023. The journey will kick-off in Bangladesh, where I will have the pleasure of meeting the teams of FundedNext and NEXT Ventures. Our interaction will set the tone for the enriching experiences to follow," the Facebook post stated.
"Following the meet and greet session in Bangladesh, I will then proceed to Kolkata, marking the beginning of my two-and-a-half day exploration of India. I am highly enthused about this upcoming adventure and eagerly anticipate the diverse experiences and learnings this journey will offer.
I extend my sincere gratitude to FundedNext, NEXT Ventures, and Mr. Satadru Dutta for their commendable efforts in coordinating this trip. Their dedication has been instrumental in bringing this tour to fruition," read the post. 
The 30-year-old goalkeeper once again expressed how excited he was to come to the subcontinent.