Eleta, Sazzad exclusions raise eyebrows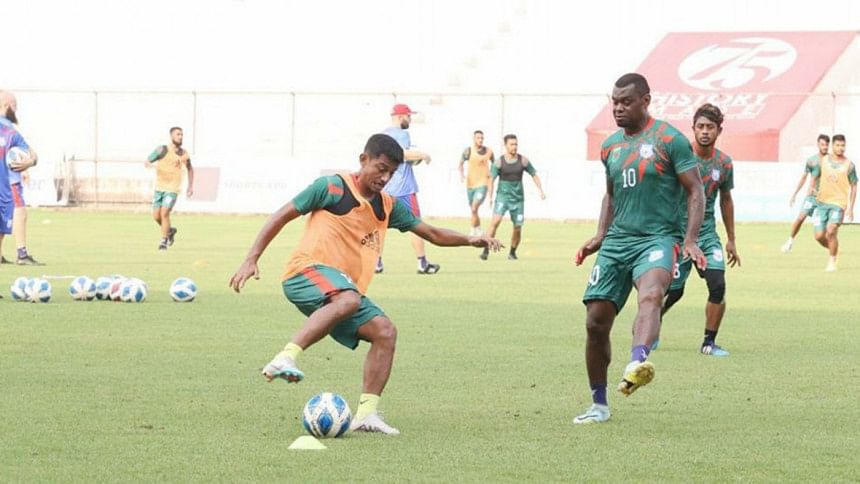 Spanish coach Javier Cabrera yesterday vowed to take Bangladesh to the semifinals of the upcoming SAFF Championship after surprisingly dropping striker Eleta Kingsley and in-form forward Sazzad Hossain as he announced his final 23-member squad for the regional football extravaganza, set to begin from June 21 in Bengaluru.
In their stead, the 38-year-old named two fresh players in the form of attacking midfielder Sheikh Morsalin and winger Rafiqul Islam in the squad, which will remain unchanged for a FIFA-sanctioned friendly against Cambodia on June 15 as part of their preparations for the SAFF Championship. The booters will leave for Phnom Penh today.
However, the decision to leave out two in-form strikers and instead opt for Suman Reza raised questions about the selection process, especially considering that the Bashundhara Kings forward got little match time in domestic competitions this season and failed to score a single goal over 10 league matches.
"Suman is a player who has the capacity and quality to contribute to what we are trying to do and the idea we want to develop. We made the decision that was best for the team. Right now Suman can provide more to the team. It's nothing against Eleta and Sazzad. That is the situation. It was a tough list to make. Suman is ahead of the other strikers," Cabrera explained.
Nigeria-born Kingsley, who made his international debut for Bangladesh against Seychelles last March, was the top-scoring local player this season, netting eight times for Abahani in the Bangladesh Premier League and once in the Federation Cup. Sazzad also had good performances for Mohammedan in the league, striking three goals.
Replying to a query, Cabrera confidently said: "The team will manage to score."
Apart from Eleta and Sazzad's exclusion, Cabrera was forced to drop defenders Rimon Hossain and Tutul Hossain Badsha due to injury, which leaves the backline looking a bit vulnerable as Bangladesh attempt to reach the semifinals after five consecutive failed attempts to do so.
Those omissions left Cabrera's side with a relatively inexperienced defence, with only Bishwanath Ghosh, Rahmat Mia, Tariq Raihan Kazi and Tapu Barman, who is still recovering from a hamstring injury, the only experienced campaigners among the squad's seven defenders.
"Some important players like Rimon and Badsha are not in the squad due to injuries so we called up other players who have had enough playing time and have been with us before like Isa Faisal. We have full confidence in the performance of these players and are convinced we can perform well and will perform well," Cabrera added.
To reach the semifinals, Bangladesh must win at least two of their three matches in Group B, which also features the Maldives, Bhutan and the tournament's top-ranked side, Lebanon.
"Obviously, Lebanon are quite a strong team in terms of ranking and physical condition, but we believe in our capacity to compete against them. If we want to go to the semifinals, we must win games. It is absolutely difficult because the Maldives are a higher-ranked side and may be more favoured than us, but we are convinced we can beat them," said Cabrera.
Captain Jamal Bhuiyan said: "As there are two new teams, the competition will be a bit greater but I think every championship is different. It's going to be a challenge again. The last time we were so close [to playing the final] and of course, we want to be in the same situation but we want to reach the semifinals first."