Charmed by Bangladesh, Martinez wants to come again
Argentina's World Cup winning goalkeeper Emiliano Martinez hoped he would return to Bangladesh again after 'leaving a piece of my heart here', he said in an Instagram message on way to Kolkata.
The 30-year-old goalkeeper spent 11 hours in the Bangladesh capital, with his itinerary featuring a visit to a digital business company office and a visit to the Prime Minister's Office before his departure for the capital of West Bengal.
The brief stopover in Dhaka left fans of Argentine football and media people disappointed as the goalkeeper neither made any public appearance nor did he interact with the media.
Wherever he moved, Martinez was under heavy security and mostly transported from one place to another on a car with tinted glasses. Even the Bangladesh football team's captain Jamal Bhuiyan, who was returning from India along with the rest of the team, was not allowed to meet the Argentine football icon inside the Dhaka airport.
There must be some dissatisfaction on the part of the Argentine himself, who had wished to include Dhaka in his journey to Kolkata because of the love Bangladeshis have shown to the Argentine team during the World Cup. The Aston Villa shot-stopper, in an Instagram post, cherished the hospitality of Bangladesh and expressed desire to return to the country one day.
"I had such an extraordinary journey to Bangladesh engaged with NEXT Ventures and FundedNext. The people here, with their love, care, and unrivaled hospitality, have truly melted my heart. I eagerly anticipate my return to this beautiful country in the near future," the Argentine wrote in the afternoon.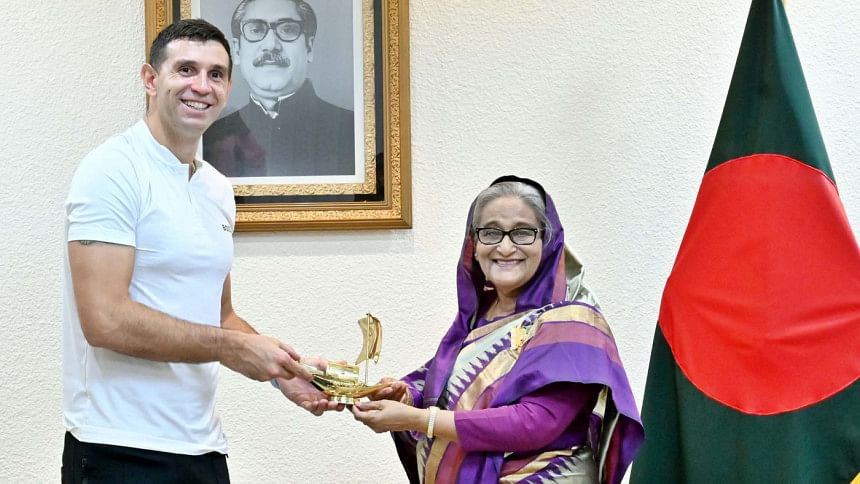 "I would like to extend my sincere gratitude to the Prime Minister's Office, the police, the airport authority, and countless others whose names I might not know but whose efforts were no less significant. You have all played a part in crafting this special bond that I now share with Bangladesh.
"So, until my next visit, I bid you farewell, leaving a piece of my heart here. I am forever charmed by Bangladesh," the post concluded.