Booters thinking only of victory
Bangladesh take on Laos in Dhaka today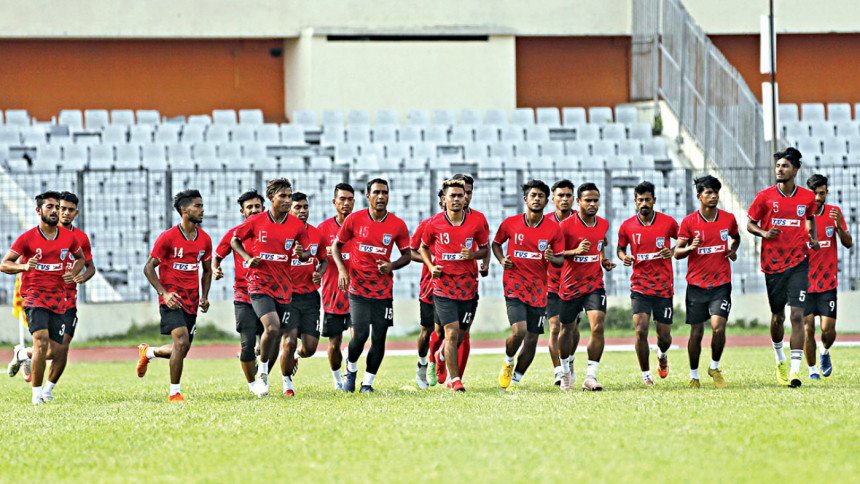 Bangladesh are looking forward to a positive result against Laos in today's encounter of Joint Qualifiers (Round-1) for 2022 FIFA World Cup and 2023 Asian Cup with the aim of prolonging their FIFA/AFC engagement.
Bangladesh have an edge over visiting Laos, thanks to a 1-0 away win, and a win or a draw in Dhaka would put the men in red and green into 40-team qualification round, ensuring at least eight more international matches in group stages over the next one year. However, an aggregate defeat to Laos will throw Bangladesh out of AFC/FIFA-sanctioned international matches for nearly two-and-half years.
The Bangladesh players are well aware of the consequences and they are apparently well prepared for today's match, which will kick off at 7:00pm at the Bangabandhu National Stadium.
"I'm not thinking of the future rather I am thinking of tomorrow's match. Everybody in the squad knows it is an important match because if we can't go through, we can't play international matches for two to three years. Every player is motivated to perform," captain Jamal Bhuiyan said at a pre-match conferee at the BFF House yesterday.
The match is not expected to be an easy one for Jamal & Co after they faced stiff challenge in the away match against Laos. However, head-to-head record gives Bangladesh the edge as they won twice, drew one and lost one in the four previous four meetings between the two teams.
"First match was tough for us, especially in the first half. In the second half we played a little better. If we look at all other away matches, visiting teams lost but only we won our away match, so credit goes to us. In tomorrow's match, they [Laos] are going to attack us, so we have to be cautious from the first minute," warned Jamal.
Bangladesh can get inspiration from the last two meetings in which they managed to beat Laos by 1-0 margin and this time they are playing in their familiar ground in front of home crowd.
Putting behind all the mistakes of the away match, Bangladesh coach Jamie Day wants a bold start from his men to leave the ground with another win. 
"We want to start tomorrow's match on the front foot with good tempo that carry to the last minute. We have an advantage and we want to use it. We have to use our crowd at home; it is our stadium, it is our country, so we need to take the game to the last minute. Even though it is not going to be an easy task, I think we need to put the pressure on them in the first half and we need to score early," Day said.   
"We are going to play on the back of a 1-0 win which is a positive thing, but I think we need to play our game, not be complacent. The boys have worked hard in the last couple of days. We are not going to play the match for draw and try to make the game comfortable. We want to score goals. We want to make sure not to be complacent, not nervous like the first half of the first leg, so we want to enjoy the occasion and hopefully perform well and win the game," Day said, hinting that he may bring a couple of changes in the starting eleven.
The 39-year-old coach is also planning on how to stop set-pieces from Laos, who really put Bangladesh under tremendous pressure from free-kicks and corners kicks in the first half. The English coach wants his charges to make less mistakes around the danger zone and wants his forwards to capitalise on the vacant space in the Laos defence when they come all-out for goals.