Booters bring home big advantage
Rabiul's goal gives Bangladesh 1-0 away win against Laos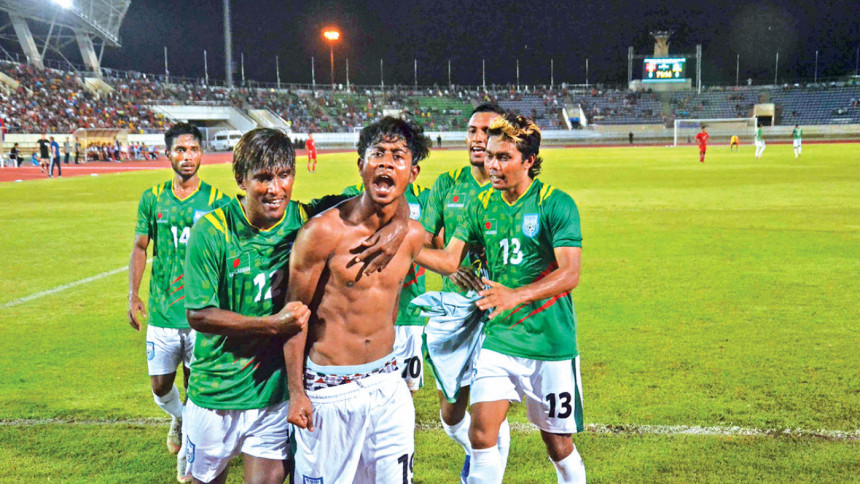 Bangladesh took a massive step towards qualifying for the group stages of the 2022 World Cup and 2023 Asian Cup with a 1-0 win away to Laos on Thursday.
Second-half substitute Rabiul Hasan scored the all-important goal in the 71st minute of the match, where the home team dominated the first half before the visitors upped the ante after the break and eked out a crucial win to silence a few thousand Laotian fans at the New Lao National Stadium.
The young forward from Arambagh Krira Shangha replaced Arifur Rahman 10 minutes after the break and gave Jamie Day's men a massive boost 16 minutes later with a wonderful goal, picking the corner of the net after receiving a long-ball from skipper Jamal Bhuiyan.
The goal not only gave the men in red and green relief after having been on the back-foot right through the first half, but it also forced the opposition to attack in numbers, allowing Bangladesh forwards opportunities on the break.
Rabiul, however, had a chance to break the deadlock five minutes after coming off the bench, but he failed to take advantage of a miscommunication in the Laos defence.
The biggest opportunity though was wasted by Tawhidul Alam Sabuz, who replaced Matin Mia in the 66th minute and almost scored with his first touch of the game. The veteran forward raced into the box on a fine cross from Rabiul, but he failed to connect properly with the ball with only the keeper to beat, allowing a defender to clear it for a corner.
However, Rabiul was not to be denied five minutes later when his speculative yet precise and powerful shot from the edge of the box beat the keeper at his near post. The Bangladesh forwards were probably a bit too excited after the goal and failed to add to their tally despite the opposition players giving their all in search of an equaliser.
However, the fact that Bangladesh went into the second half with a clean sheet owed a great deal to some excellent glovework from goalkeeper Ashraful Islam Rana.
The Sheikh Russel KC custodian made a number of fine saves from dangerous set-pieces in the first half as the Laotians looked deadly from free-kicks and corner kicks. There was not much threat from open play but Bangladesh defenders negotiated the tricky passages of play with great discipline and organisation.
The win will surely be a massive confidence boost for Jamie Day's charges, who returned home in the early hours of Saturday, for the second leg at the Bangabandhu National Stadium in Dhaka on June 11.
The winners over the two legs will qualify for the group stages of the joint qualifiers while the losers will be all but devoid of AFC/FIFA-sanctioned competitive matches for the next four-year cycle.