Bengaluru's sanctuary for athletes
As footballers from the Bangladesh national football team entered the Hindustan Aeronautical Limited (HAL) Sports Club after travelling 12km from their hotel in Bengaluru, a group of young footballers were walking off the artificial turf.
Bangladeshi journalists in town to cover the SAFF Championship were in pursuit and upon arrival were greeted by lush green trees creating a calm backdrop for a serene training session.
More impressively, the HAF Sports Club, under the care of the Ministry of Defense, serves athletes from multiple disciplines. The facility not only boasts a swimming pool and a gymnasium but also a cricket ground, one court each for basketball and volleyball, an artificial turf and a grass-covered pitch.
Eyes were also drawn to a photo of illustrious Indian forward Bhaichung Bhutia, who scored against Bangladesh in the SAFF Championship finals in 1999 and 2005, promoting his football school and finding a home for more than 300 footballers at the HAL Sports Club.
Before calling time on the domestic circuit in 2015, Bhatia had established numerous Bhaichung Bhutia Football Schools (BBFS) in 2010 spread across the country, aiming to repay his country. The schools have played a big role in producing footballers, with current Indian national team midfielder Rohit Kumar one notable product.
"It is the fourth year of the BBFS in Bengaluru. We have 370-plus footballers, aged from Under-6 to the Under-16 level. 25 coaches conduct training while five officialslook after everything else," Fejin J Felix, operations and business development manager of BBFS in Bengaluru, told The Daily Star while Bangladesh were training under the afternoon sun.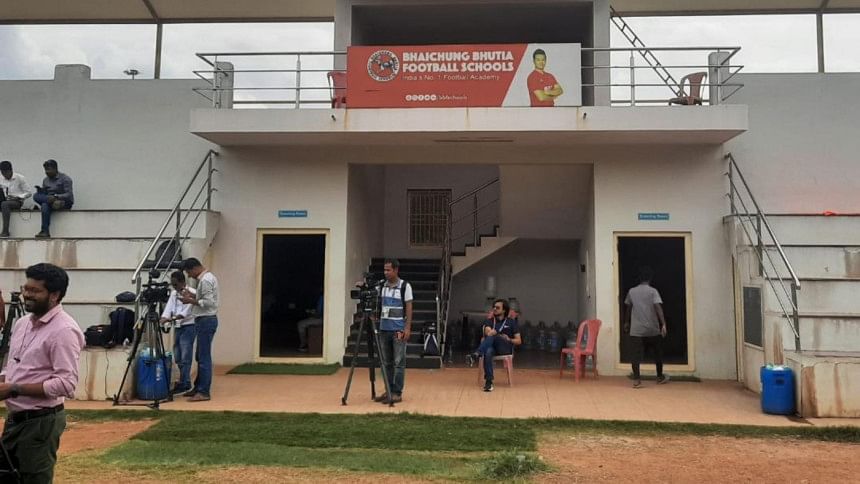 "We provide two types of training. One is foundation training, which anyone can avail, and the other is development training. Coaches conduct foundation training three hours a week and development training six hours a week," Felix said, adding that they were renting the premises at a cost of 4 lakh rupees per month and other sports clubs were using the HAL Sports Club as well.
"The school is mostly run with fees from the students," informed Felix, who opined Bengaluru would become the hub of Indian football given the number of football-related initiatives in Karnataka.
"Only one league was held in Bengaluru before but now there are four leagues. The super division consists of 20 clubs, division A of 10 clubs and Division B of 14 clubs. Division C has more than 200 clubs competing on a zonal basis before a centralised tournament from which only two teams are promoted," Felix said.
"If you compare the football culture of Kolkata or Kerala with Bengaluru, we know about their legacy. But at present, Bengaluru is also booming and has a lot of games at the grassroots level. There are activities 300 out of 365 days a year. The Karnataka football association also helped a lot," Felix said. "There are also knockout competitions and five youth leagues ranging from the U-9 to U-19 level. I think Bengaluru is going to be a football hub in the coming days."