Bellingham paying 'homage' to Zidane with Madrid No 5 shirt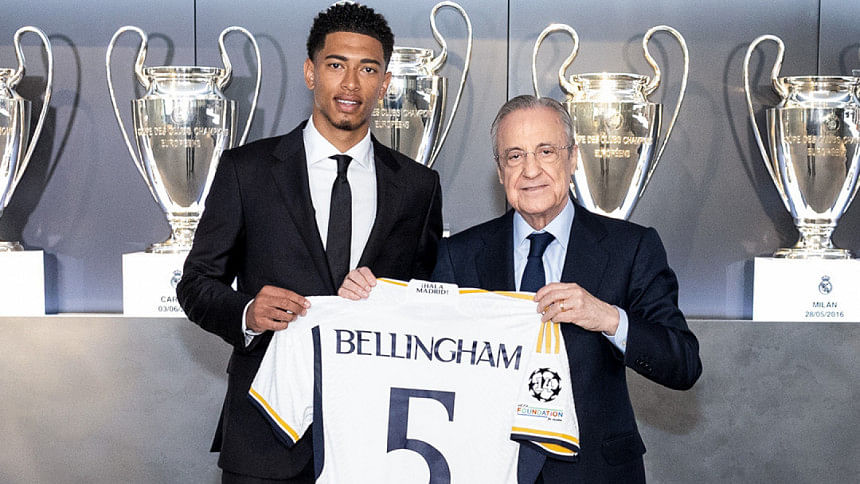 New Real Madrid signing Jude Bellingham said he wanted to pay homage to club great Zinedine Zidane by wearing his number five shirt, at his presentation on Thursday in the Spanish capital.
The England international, 19, sealed his move to Madrid from Borussia Dortmund on Wednesday for 103 million euros ($112 million) plus up to 30 percent more in bonuses, on a six-year contract.
Bellingham spoke alongside Madrid president Florentino Perez and explained why he was opting to wear the number five shirt.
Defender Antonio Rudiger currently wears the number 22, which Bellingham has preferred to date through his career, as it is the sum of shirt numbers 10, eight and four, representing his versatility in midfield and wide skill-set.
"I've said in many interviews how much I admire Zinedine Zidane, the legacy he's had at the club with this number -- I'm just trying to be Jude, but it's definitely a bit of a homage to how great he was," Bellingham told a news conference.
"The number 22 has a big meaning for me, and in my heart I'm still number 22, just with the number 5 on my back."
Bellingham said wearing Zidane's previous shirt did not mean he was trying to emulate the French midfield maestro, who went on to win three Champions Leagues as Real Madrid's manager.
"The (Madrid) shirt itself is enough pressure ... for me it's a bit of homage to a great player," said Bellingham.
"Maybe I can extend the legacy of the number, instead of trying to reach his."
Bellingham has plenty of other reference points still at the club to learn from, including veteran midfielders Luka Modric and Toni Kroos.
"The things I'll gain especially from the two older lads, Modric and Kroos, will be unbelievable, with their knowledge of the game," said Bellingham.
"I'll be like a sponge around them, trying to steal anything they've got. They'll probably get annoyed with me."