Bangladesh fans arrive in droves to watch SAFF opener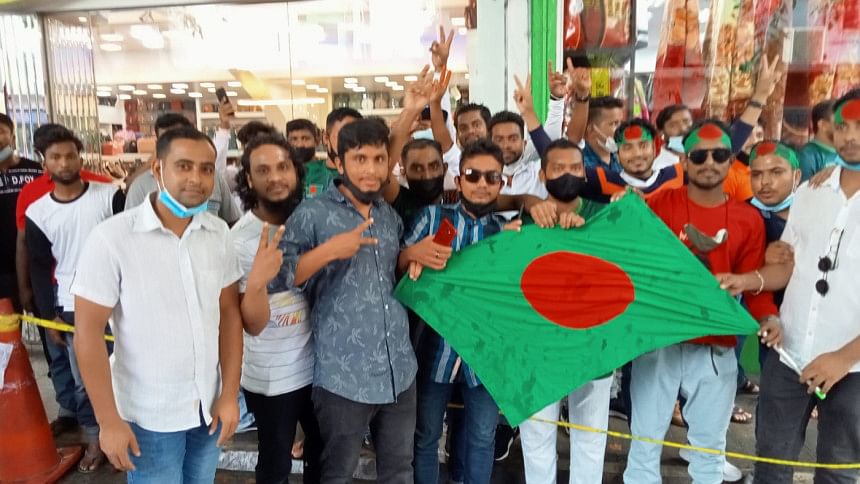 Blowing their whistles and beating drums, the expatriate spectators were flocking at the National Football Stadium in Male, Maldives as Bangladesh gear up for their SAFF Championship campaign to take off against Sri Lanka this afternoon. The match is scheduled to get underway from 5:00pm (Bangladesh Standard Time).
Many expatriate workers have already gotten hold of the tickets to watch the match while many other Bangladeshi expatriate spectators were waiting outside to get tickets even as the ticket counters remained closed.  The crowd also brought a procession chanting 'Bangladesh…Bangladesh' outside the stadium.
"I have already bought a ticket worth 70 Rufiya to watch the Bangladesh match against Sri Lanka as I used to watch matches of domestic league too," said Abdul Kadir, an air condition repairman, hours before the match.
"This time the Maldives federation raised the price of ticket which was once sold out at the price of 27 Rufia because they have probably sold half tickets of total capacity," said Kadir from Sylhet who has been working here for last seven years.
Aminul Islam, a construction worker, said, "I have bought a ticket after showing the vaccination card of Covid-19. I have attended matches here before."
It was seen that some expatriate spectators were eagerly waiting for ticket counters to open as they could not buy tickets beforehand.
"I could not come here to buy tickets before because I could not get leave from work. Today is weekend vacation, so I came here in a bid to get a ticket to watch the match," said a construction worker.
Mohammad Ibrahim, who also watched Bangladesh's 0-5 drubbing at the hands of Maldives in 2016, is yet to get the tickets he need. He was expecting a win over Sri Lanka whom Bangladesh last beat 3-0 in Dhaka during Bangabandhu Gold Cup in early 2020.
"Of course, I felt sorry when Bangladesh went down against Maldives and it lasted long time but it is also pleasing to watch the national footballers playing in front of the eyes and we enjoyed watching their performance," said Ibrahim.