'Aim to give girls a beautiful life'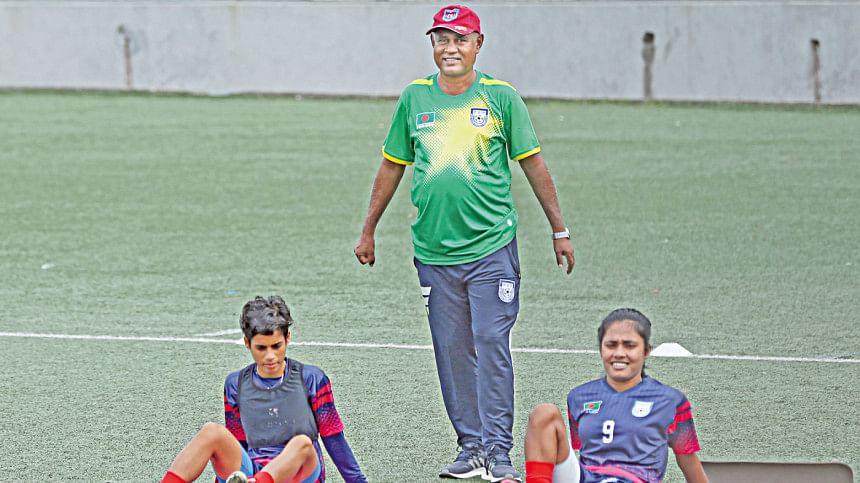 Golam Rabbani Choton has been the head coach of Bangladesh women's football team, both at senior and age-level, and has delivered nine trophies at different international age-group tournaments while also guiding his side to the runners-up position four times, including once in the SAFF Women's Championship. The 52-year-old spoke to The Daily Star's Anisur Rahman about the different aspects of women's football in Bangladesh. The excerpts are below:
The Daily Star: How would you describe the journey of the current batch of girls?
Golam Rabbani Choton: (GRC): This journey started in late 2013 under the U-13 football tournament programme initiated by the BFF women's wing and financed by Plan Bangladesh. Changes started at that time because we before formed the women's squad with the girls from different disciplines like handball, kabaddi, volleyball and judo but they returned to their respective disciplines after participating in football matches or tournaments. We lacked specialised football players, who would be playing only football and then we found that group of girls from the U-13 tournament.
Then the BFF groomed them through long-term training of 210 footballers. The number was trimmed to 46 ahead of the AFC U-14 Championship Qualification in 2014.
Since then, the girls have been kept in a group and trained round the year. Their development gathered steam when those girls became group champions and moved into the AFC U-16 Women's Championship in Thailand. The journey is still going on.
DS: What was the main challenge in grooming these girls as a team?
GRC: Compared to countries like India, Nepal and Bhutan, a footballer is trained through academies before coming into the national teams. But in Bangladesh, girls come into the national teams directly from villages without proper knowledge or techniques. Fresh footballers also lack nutrition. These have actually been our main challenges. The girls in the BFF training camp also have to face challenges every day because they must show improvement daily, otherwise they have to quit. With 68 girls from different groups in the training camp at present, some 50 to 60 girls had to leave the camp due to non-improvement. Newer, talented players replaced them.  
DS: The women's football team hardly drew spectators before but that has changed and spectators now come to the stadium in numbers. Why do you think that is?
GRC: We used to defend and try to resisting the opponent in our own half. But now our coaching philosophy is to play entertaining football. Irrespective of results, the girls can now build-up the play and play pressing football, which spectators love to watch. International success is another reason. Although these girls are gradually improving, I think they have to improve in every area.
DS: There are concerns that the girls, who are growing older, might leave football due to family pressure. What initiatives has the BFF has taken to keep them in football?
GRC: The federation has kept them in training round the year. They are still under 20 and the BFF provides a salary. They also earn from the women's league and get bonuses from Prime Minister Sheikh Hasina whenever they deliver international success.
DS: Do you think the existing women's football league is helping the girls improve?
GRC: The women's football league is being held as required, but I think it is not helping the girls much apart from financial benefits. I think the authorities should find a way to make the league more competitive. Our national women's team players run 9,000 to 1,000 meters each game against Malaysia but they can hardly run 4,000 meters in league matches.
DS: What is the target for women's football in Bangladesh?
GRC: There was no target or vision a few years ago, but now it is to give the girls a beautiful life in the future through football. Eight to nine players have already been admitted to different private and government universities as footballers. The girls are also dreaming of getting big contracts from clubs in the coming women's league. Our target is to play the final of the next SAFF Women's Championship.