AC Milan pay tribute to 'unforgettable' ex-owner Berlusconi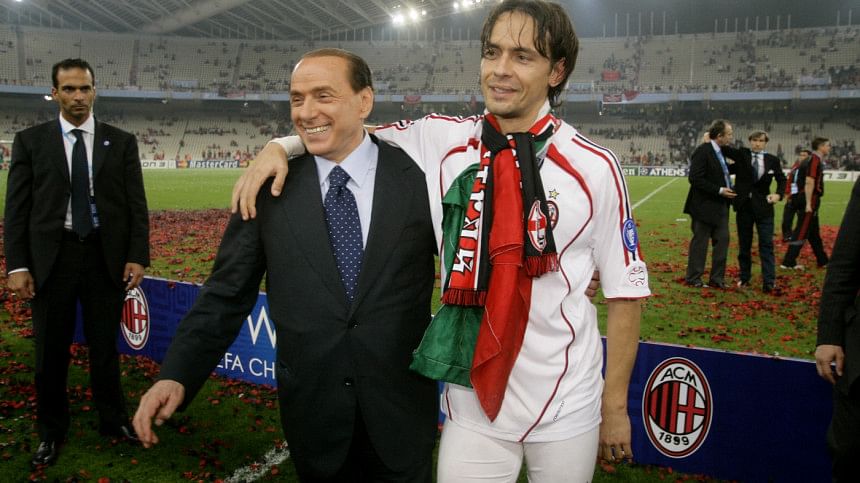 AC Milan, the football club which won a host of domestic and European titles under Silvio Berlusconi's ownership, called him "unforgettable" in a tribute after his death aged 86 Monday.
"Thank you, Mr President. Always with us," the club said in a statement, adding it was "grieving the passing of the unforgettable Silvio Berlusconi".
"Tomorrow, we will dream of new ambitions, create new challenges, and seek new victories. Which will represent the good, the strong, and the true that lies inside us, in all of us who shared this adventure of binding our lives to a dream called Milan," the statement continued.
Berlusconi reigned supreme at Milan from 1986 until 2017, during which time the club won 29 trophies, including five Champions League and eight Italian league titles.
Carlo Ancelotti, who won two Champions League titles as a player for AC Milan in 1989, 1990 before then coaching the club to two more European successes in 2003 and 2007, led the tributes to the former club president.
"Today's sadness doesn't erase the happy moments spent together," Ancelotti, the current Real Madrid manager, tweeted along with a photo of him standing beside Berlusconi.
"There remains infinite gratitude to the president, but above all to an ironic, loyal, intelligent, sincere man, fundamental in my adventure as a football player first, and then as a coach. Thanks President."
AC Monza, the club Berlusconi and his long-standing business partner Adriano Galliani bought in 2018 after he sold AC Milan, said the former Italian prime minister's death left an unfillable hole.
"Adriano Galliani and AC Monza mourn the passing of president Silvio Berlusconi," the club said in a statement.
"A gap that will never be filled, forever with us. Thank you for everything presidente."
When Berlusconi purchased Monza in 2018, the club was in the third tier of Italian football.
Berlusconi vowed to take Monza to Serie A and with the help of Galliani the team based near Milan reached the top flight for the first time in their history last season.
Monza will play in the Italian top flight again next season after finishing the just-completed campaign in 11th place.