Nasri brands Vardy 'a cheat' after red card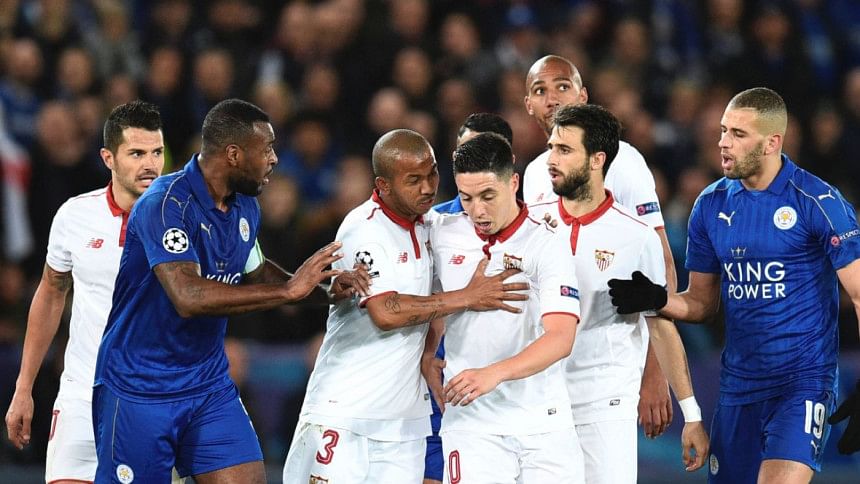 Sevilla midfielder Samir Nasri has accused Jamie Vardy of cheating after the Frenchman was sent off for squaring up to the Leicester forward and bumping foreheads in their Champions League clash on Tuesday.
Leicester, down 2-1 from the first leg in Spain, turned the tie around with a superb 2-0 victory at King Power Stadium that made them the only English team to reach the quarter-finals of Europe's top-tier club competition this season.
Nasri, who is on loan at Sevilla from Manchester City, was shown a second yellow card by Italian referee Daniele Orsato for violent conduct after squaring up to Vardy.
"For me he's a cheat because if he was a foreign player you, the English press, would be saying he's a cheat. For me he is a cheat," Nasri told reporters.
"They were winning 2-0, play the game like a man. You are not better than us but you are winning 2-0 and will qualify, just play the game."
Leicester came out in support of Vardy and the player also refuted the Frenchman's comments.
"I'm not a cheat and I never have been. That's all I've got to say on the matter," Vardy was quoted as saying by the BBC.
A Leicester City spokesperson said: "The club refutes entirely any allegation that questions the professional integrity of Jamie or any of its players".