Nacional arrive in Brazil for emotional Chape game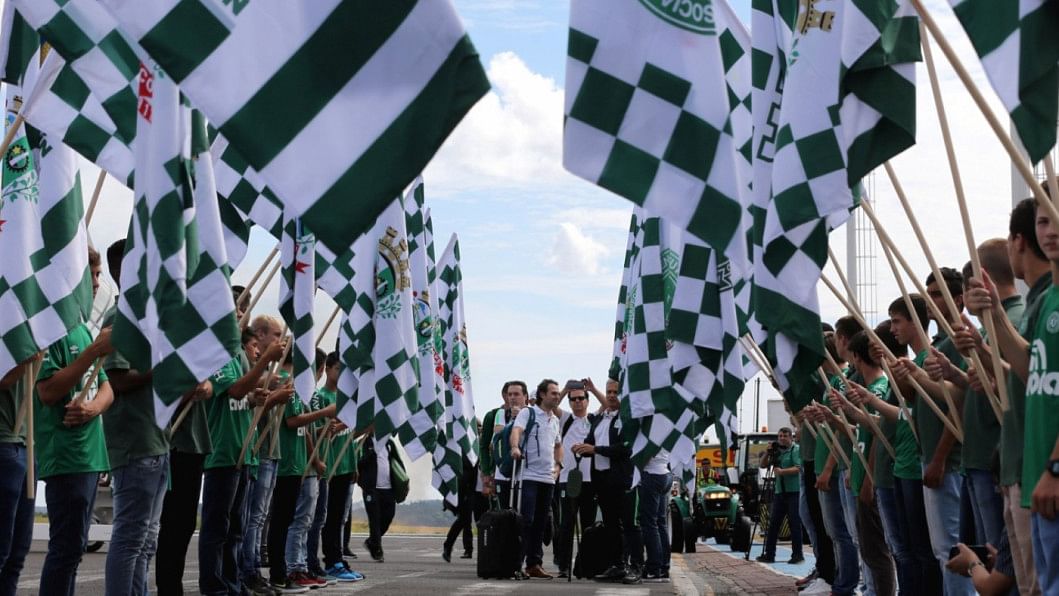 Colombia's Atletico Nacional arrived in southern Brazil to fanfare on Monday for the first leg of the South American Supercup final against Chapecoense, a team that was almost wiped out in a plane crash before their scheduled meeting last November.
The Colombian side and their supporters won worldwide acclaim when they turned out in huge numbers to pay tribute to the Brazilians in the days after the crash on a hillside outside Atletico Nacional's hometown of Medellin that killed 71 of the 77 people on board, including 19 players.
The solidarity shown brought the two clubs close together and the Colombians were greeted warmly on arrival in Chapeco.
Players and staff were presented with medals by sports reporter Rafael Heinze, one of those who survived the crash.
Their team bus was followed by dozens of cars as they drove from the airport to their hotel, where Chapecoense fans gathered to cheer them.
"Chapeco outdid itself. We are far from home and yet received like heroes," Atletico Nacional said on their website. "A continental final and total brothers. There are no words to express our gratitude."
Tuesday night's match is the first meeting of the two clubs since all but three of the Chapecoense delegation perished on their way to the Copa Sudamericana final in November. Their plane hit a hillside as it approached Medellin.
The match was cancelled and Chapecoense were awarded the Sudamericana title at Nacional's request. It was the first time the club had ever lifted a continental trophy.
The Supercup final annually is between the winner of the Copa Libertadores – Atletico Nacional – and the Copa Sudamericana champion.
Chapecoense have worked hard to rebuild in the months since the disaster, signing 25 new players and starting the season well. They are top of the Santa Catarina state championship and unbeaten in their last five games.
Nacional, meanwhile, sit atop Colombia's first division, even though they sold several of the players who helped them win the Copa Libertadores and make 2016 the most successful year in their history.
Tuesday night's match is a 22,000 sellout, with local fans encouraged to wear white and learn the words and choreography to a song they will sing before the game.
The return leg is scheduled for May 10 in Medellin.