Mourinho mocks 'worst manager' De Boer over Rashford use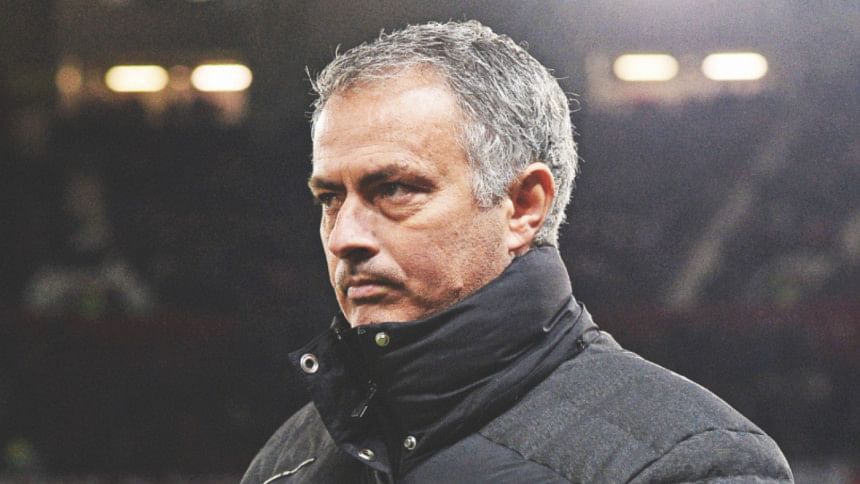 Jose Mourinho launched a stinging attack on Dutchman Frank de Boer on Monday after the former Crystal Palace coach criticised Manchester United's sparse use of Marcus Rashford.
Rashford scored twice in his first Premier League start of 2018 as United edged out Liverpool 2-1 on Saturday, but Mourinho still substituted the 20-year-old England forward 20 minutes from time as he looked to make the game safe.
"It's a pity that the manager is Mourinho because normally he's an English player, you want to give him time and he can then make mistakes," De Boer told BT Sport.
"But Mourinho is not like that. He wants to get results."
De Boer was sacked by Crystal Palace after just five games in charge in September having seen the London side fail to register a point or score a goal in his four Premier League games in charge.
"I read some quote from the worst manager in the history of the Premier League, Frank de Boer," Mourinho said on the eve of his side's Champions League last 16, second leg with Sevilla.
"Where he was saying it is not good for Marcus Rashford to have a coach like me because the most important thing for me is to win.
"If he was coached by Frank, he would learn how to lose because he lost every game."
De Boer won four straight Dutch league titles as Ajax boss between 2011-2014.
Rashford's minutes have been limited since the arrival of Alexis Sanchez in January, but Mourinho insisted he was finding a balance between burning Rashford out and giving him enough experience.
"Does he play every match from the start? No, of course not but he's a player we trust and I told him that before the Liverpool match," added Mourinho.
"He had a good match and not just by scoring goals. Analysing a performance for me is more than number of goals or assists, and for me I'm really happy with Marcus."
- Pogba in contention -
Whether Rashford starts against Sevilla may depend on Paul Pogba's fitness.
The £89 million French midfielder missed the clash with Liverpool through injury, but Mourinho confirmed he returned to training on Monday.
Mourinho's defensive tactics in a 0-0 draw in Spain three weeks ago were much-criticised as, without an away goal, United's tie with Sevilla is finely balanced.
And the Portuguese admitted United have no "advantage" as a score draw would see Sevilla progress.
"The first leg leaves everything open for tomorrow," added Mourinho.
"I don't feel we have any advantage in this moment. We are going to try to show we are better but I don't feel we have any advantage."
Sevilla coach Vincenzo Montella is an open admirer of Mourinho having admitted to reading the Portuguese's book for inspiration early in his managerial career.
But the Italian is hoping to get one over on Mourinho to match Sevilla's best ever run in the European Cup when they reached the quarter-finals in 1958.
"Mourinho is not used to losing games at home, so I would settle for a 1-1," said Montella.
"It is a special game because it would be a very important step for the club. We've only been there once before and that was 60 years ago."
Three-time European champions, United have made the Champions League quarter-finals just once in the past seven years.
Mourinho believes they are still some way off the European elite, but believes from his experiences of winning the competition with Porto and Inter Milan, anything is possible if they make the last eight.
"I think we are not one of the best teams in the competition, but I think when a team arrives in the last eight anything can happen.
"When you are in the last 16 it looks really, really far, but when a team gets in the last eight you start smelling the semi-finals."