Mourinho gives no guarantees on Rooney future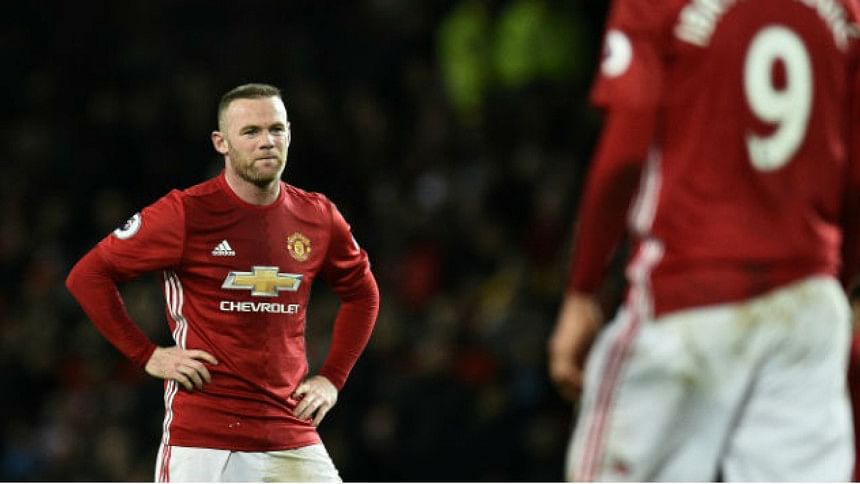 Manchester United manager Jose Mourinho was coy on questions over Wayne Rooney's future at the club as he confirmed the striker was still not fit enough to return for their Europa League clash with Saint-Etienne.
There have been rumours that Rooney, who is no longer an integral part of the United side under Mourinho, could eventually leave for the mega-rich Chinese Super League.
"You have to ask him," said Mourinho on Tuesday when asked if there was any chance the 31-year-old could follow in the footsteps of the likes of former United team-mate Carlos Tevez and move there before the transfer window closes next week.
"Of course I can't guarantee (he will be here). I can't guarantee that I'm here next week, how can I guarantee that a player is here next season?"
Mourinho, though, insisted he wants Rooney to stay, saying: "I would never push, or try to push, a legend of this club to another destiny."
Rooney trained with his United team-mates in Manchester on Tuesday morning but was not part of the 20-man squad that flew to France for Wednesday's last 32 second leg.
Asked if he would be fit for Sunday's English Football League Cup final against Southampton, Mourinho was non-committal.
"I don't know. This morning was the first time he trained and didn't even train 100 percent with the group," the Portuguese boss told reporters at Saint-Etienne's Stade Geoffroy-Guichard.
"He is injured, I cannot do miracles at that level," said the boss.
"Rooney is injured, he (has been) injured for two or three weeks.
"When you don't have a player, you have others. The team is in a good moment. In the past few months we've lost only one game and it was one we could lose as it was a two-legged match."
'Shaw must wait'
The Europa League has taken on added importance for United, who are battling on four fronts, as it offers a qualification place to next season's Champions League for the winners.
With United in a tight battle for a top-four finish in the Premier League -- there will likely be three places up for grabs between five teams behind runaway leaders Chelsea -- Mourinho said he wouldn't be prioritising competitions.
"I want to win tomorrow (Wednesday). I don't want to win Europa League or Premier League, I want to win tomorrow," he said.
"I want to win the final on Sunday -- Sunday at 7pm. I want to win against Bournemouth in the Premier League. That is the way I think all the time and during my career."
Another player who didn't make the match-day squad is England international full-back Luke Shaw, who has been out of favour with Mourinho.
After battling back from last season's double leg fracture, Shaw has found games hard to come by since Mourinho succeeded Louis van Gaal, playing only once since November.
And Mourinho gave little indication the 21-year-old is likely to earn a starting place any time soon.
"Luke has to wait for his chance, he has to work better and better, knowing that I give nothing for free.
"When I give something for the players it is expensive for me, it is not cheap. They have to work really hard every day, they have to play well, so he has to wait and in this moment he is behind the others."
United won last week's first leg at Old Trafford 3-0 thanks to Zlatan Ibrahimovic's hat-trick and Mourinho believes there will be no way back for Saint-Etienne if his team performs well on Wednesday.
"If we play normally, as we usually play, I think it is mission impossible for Saint-Etienne.
"Even though I think we played badly in the first 45 minutes of the first leg. I shall tell my players to forget about the final on Sunday. I want my players to be focused."