More needed to justify Messi, Ronaldo comparisons: Hazard
Conte admits to losing sleep over stopping Messi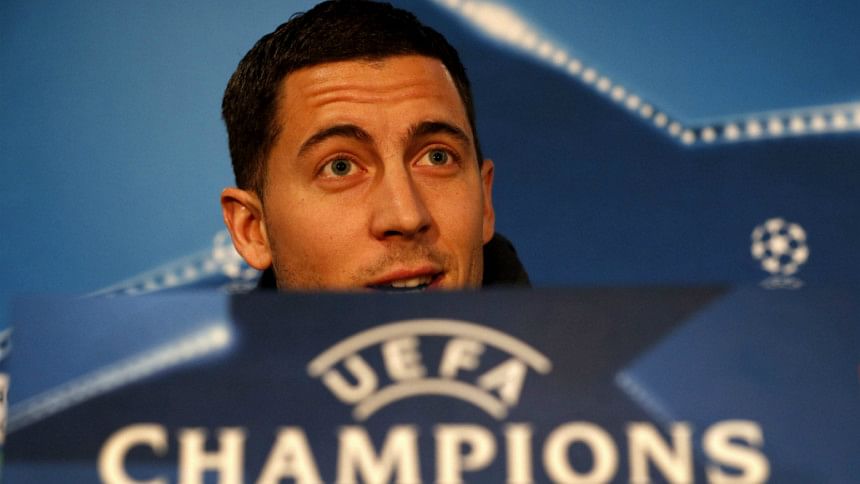 Eden Hazard admitted he must show more on the Champions League stage for Chelsea if he is to justify comparisons to five-time Ballon d'Or winners Lionel Messi or Cristiano Ronaldo.
Hazard goes head-to-head with Messi when Barcelona visit Stamford Bridge in the first leg of their last-16 clash on Tuesday.
The Belgian has won Player of the Year awards for his part in leading Chelsea to two Premier League titles, but is yet to take Europe's premier club competition by storm.
"It's good to be compared with the greatest ever, Messi or Ronaldo," said Hazard.
"I try to do my job and try to reach their level, because they are the best in the world.
"Every season I try and do my best. When we play this kind of games, we need to perform.
"If you want to be one of the best, you have to play well in the big games. This is a big game."
Hazard has long been linked with a move to Barca's biggest rivals, Real Madrid.
And whilst he insisted he remains happy in London, he refused to completely rule out a move to Spain.
"I have two years left on my contract. I'm happy here, my family is happy here," he added.
"I'm just focused on the game tomorrow and to the end of the season. I don't think much about the future because you never know what happens in the future."
Hazard, who is Chelsea's top scorer with 15 goals this season, was highlighted by Barca midfielder Ivan Rakitic as the biggest threat to the Catalans.
"For me he is," said the Croat when questioned whether Hazard is world class.
"He is maybe the most important player for Chelsea.
"We have to be ready tomorrow to stop him. He is really fast one against one, he is in really good form in his last games and we have to be ready for him."
Facing Conte a 'challenge'
However, Barca coach Ernesto Valverde pinpointed under-fire manager Antonio Conte as the English champions' biggest strength.
Comfortable wins over West Brom and Hull in the past week have slightly eased the pressure on Conte, who has publicly clashed with Chelsea's hierarchy over recruitment this season.
The real test, though, comes against a Barca side that are unbeaten in 30 games in La Liga and Champions League under Valverde.
"He is one of the best coaches in the world, with an incredible CV," said Valverde.
"Not just for winning the Premier League here with Chelsea but what he did at Juventus, (and) the (Italian) national team.
"His teams are very well-worked tactically, they know what to do in every moment of the game
"For me it is a challenge to face a team coached by him."
Conte, though, said he welcomed the pressure of the Champions League stage and the challenge of what he described as "one of the best teams in the world".
"If you want to compete at the maximum level, you have to live with this pressure. A team like Chelsea in every game must have the right pressure," said the Italian.
"If we want to stay at this level, the pressure must be your friend, not your enemy."
Messi has won just one and failed to score in eight previous meetings against Chelsea.
Conte, though, admitted to still losing sleep over how to stop the Argentine.
"We are talking about the best player in the world," he added.
"Messi has the capacity to solve the situation and create a chance when you are not seeing the chance to score."