'More Argentina players may retire'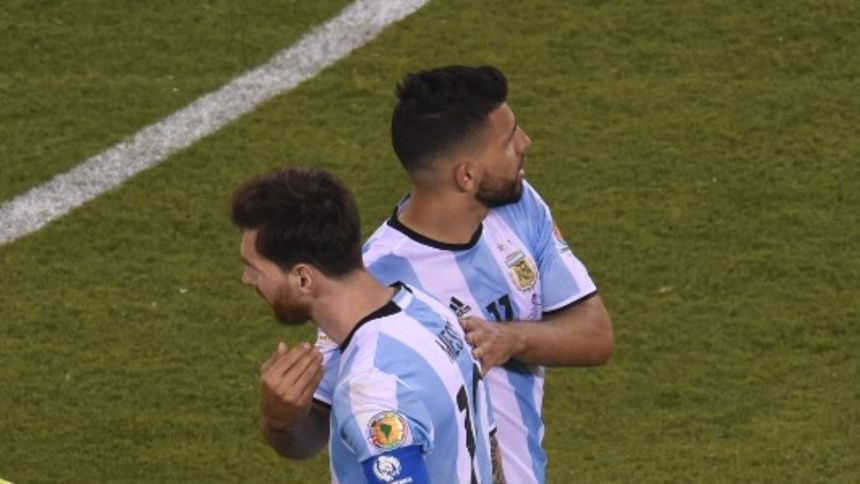 Sergio Aguero and other Argentina players could follow the lead of captain Lionel Messi and retire from international football after losing the final of the Copa America on penalties to Chile for the second straight year.
The 29-year-old Messi, who sent his spot-kick in the penalty shootout over the bar, announced his decision shortly after the title game in New Jersey on Sunday.
"The likelihood is that Messi is not the only one that will leave the national team," said Aguero, who lost his third final with Argentina, to Ole newspaper.
"There are several players like me that are evaluating whether or not to continue."
The Manchester City forward, who replaced Gonzalo Higuain in the 70th minute, was hugely disappointed after Argentina failed to end their 23-year trophy drought at senior level.
"One doesn't want to think about it but at times, there are things that happen and the thought (of retiring) comes into your mind," said Aguero, who won an Olympic gold in 2008.
"Afterwards, it's difficult to get it out."
Aguero has played for Argentina's senior side since September, 2006 and empathized with Messi, a five times World Player of the Year.
"Unfortunately, the one that leaves most affected is Leo Messi after his penalty miss," the 28-year-old Aguero said. "This is the worst that I've seen him in the changing room.
"We are all affected and we will try to think about something else and move forward. Again, luck was not on our side."
Argentina's starting goalkeeper Sergio Romero hoped that Messi will reconsider his decision.
Chile goalkeeper Claudio Bravo, who saved Lucas Biglia's penalty before Francisco Silva scored the crucial spot-kick to help his country retain the Copa, had praise for his Barcelona team mate Messi.
"In my opinion, he is the best player in the world and in history," Bravo told Marca. "They have to enjoy him, value him and understand him.
"This is a team work, when you win, everyone wins, and when you lose, everyone loses. We had some criticism directed at Chilean players in our first few games (of the Copa America).
"Football is a team sport."