More than a 3-0 thrashing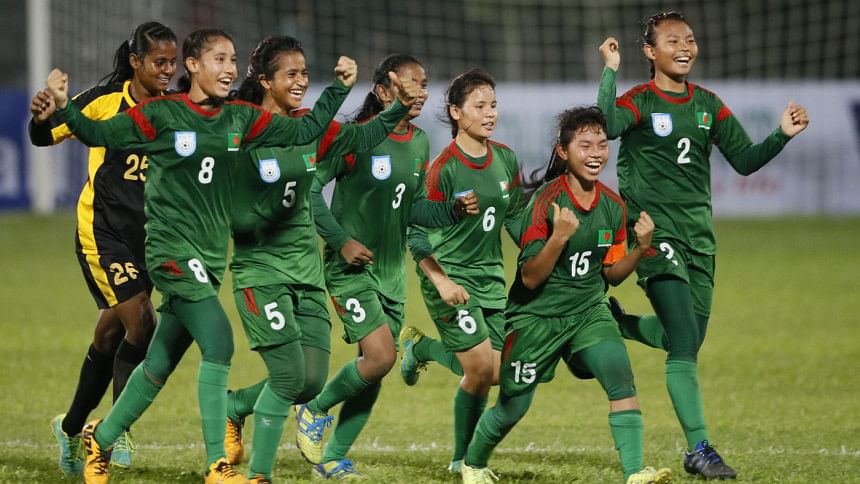 Last time when a Bangladesh Under-16 women's football team played against their Iranian counterpart they lost 1-2. On Saturday night a slightly different U-16 team registered a comprehensive 3-0 against a hugely awestruck Iranian team at the Bangabandhu National Stadium.
The win gave the home team a perfect start in the AFC Women's Under-16 Group C Qualifiers on a day when Chinese Taipei won 7-1 against Kyrgyzstan in an early morning game and UAE drew 2-2 against Singapore in the afternoon on a hectic opening day fixtures at the premier venue.
But for the Bangladesh women their 3-0 win was not just a sort of revenge but a reward of continuity which has been building around the success of the Under-14 team at the international level. With so many players coming through a very strong junior system ignited by the now-famous Kalsindhur School, the latest win is not just a fluke. It was rather coming after the same set's 2-0 semi-final win against Iran in the AFC Under-14 regional championship in Nepal that our girls won in the most dramatic of circumstances two years ago.
Marzia, a star of that famous victory in Nepal, opened the scoring in the 63rd minute. Three minutes later it was the turn of Mousumi Jahan to blast home a spectacular right-footer, worthy of any quality strike at any level. Tohura, a hero of Bangladesh success at the Under-14 level in Tajikistan last year, headed in the third four minutes from time. Her header off a whipping cross from the left was so immaculate that an out of position Iranian custodian only could watch it sailing over her head.
But the three goals hardly reflected how well the home girls played. It was a pity that only a handful of fans were in attendance in a match the home team dominated from the word 'go' till the final whistle. It would be unwise to draw the overall standard of our football including that of our men's team, but those who watched this particular game were amazed to see their ability to run at the same pace on a full-size ground for 90 minutes, their hunger to win back the ball, some individual skills like bending the ball, providing those defense-splitting passes, playing those one-twos with authority. It may sound harsh but the kind of football they played with all the basic ingredients deeply rooted in every one of them, it can be even impress the senior most men's team of our country.
This was a rarity on a football field when a Bangladesh opponent were allowed only one shot at the target. And the rate at which the Bangladesh girls, who have been allowed to take football seriously not long ago, are progressing, it is not far away for them to reverse a 6-0 drubbing by Iran at the Under-19 level. What they need is continuity to floor one frontier after another.