Maldives friendly today
Saintfiet looking for team combination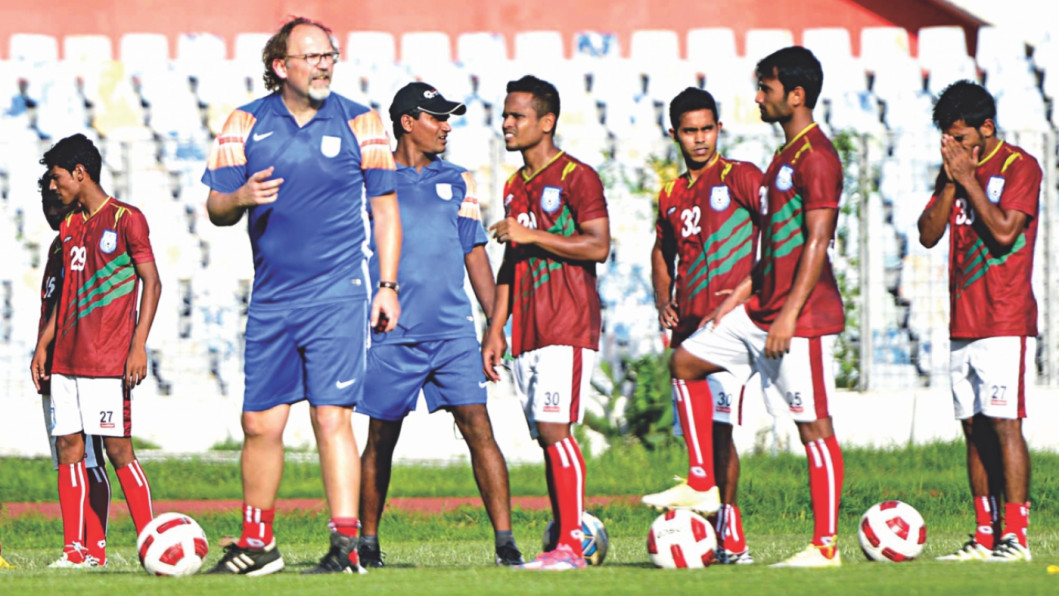 Tom Saintfiet will be looking to fine tune his strategy and team combination for the Asian Cup Play-off Qualifiers as the Bangladesh national team take on Maldives in an international friendly in Male today.
The friendly, which will kick off at 10:00pm Bangladesh time, has been arranged as part of both teams' preparation for the qualifiers. While the men in red and green will host Bhutan in Dhaka on September 6 before play away at Thimphu in October, the Maldivians will vie against Laos in their attempt to get into the Asian Cup qualifiers' final round.
Saintfiet, who has put together a squad comprising a number of new faces alongside proven campaigners, is not focusing on result, rather is looking to find an ideal combination and adaptability of his players to his system.  
"I am trying to change Bangladesh football and the recent results were not good for sure. We must change that to get sponsors and fans to take it to the next stage." Saintfiet was quoted as saying by Maldivessoccer.com yesterday.
Even though the Belgian is seeing Maldives as the favourites in this match, statistics is tilted slightly towards Bangladesh. The men in red and green have won five times while losing three times and drawing on the other three occasions against their South Asian counterparts. The last meeting, though, ended in a 1-3 defeat for Bangladesh in the SAFF Championship last December.
The 43-year-old Belgian praised the attacking line-up of Maldives while admitting the weakness of his own forwards.
"Maldives players are much better technically, but I am sure there are some areas that we can take advantage of. Our main problem is scoring, but I know Maldives' strike force is very good and there is no doubt about the quality of Ashfaq." Saintfiet said.
Saintfiet's counterpart, Darren Stewart of Australia, wants to make a positive start too.
"I want to start with a positive result. I can see the hard work and commitment from my players during training," said Stewart, who will also make his debut for the Islanders.